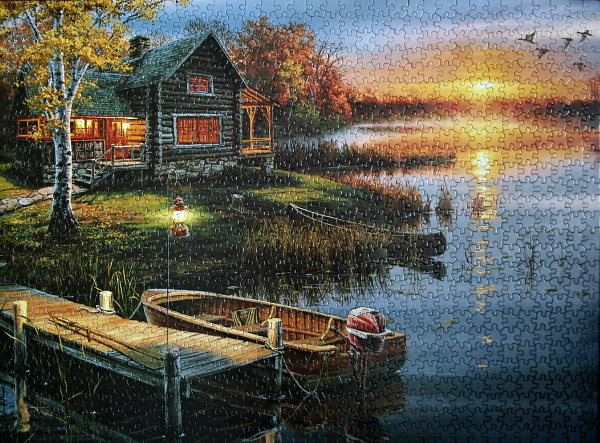 Size: 1000 pieces
Dimensions: 50.8 cm x 68.58 cm
Producer: Karmin International, The art of Darrell Bush series, 2004
Puzzle: Beatutiful puzzle in vibrant colours with many distinct regions – a pleasure to do. Good starting points are the sunlit sky and water, the birds, the horizon line and the water: since there are many horizontally-separated water colour regions, that part is a breeze. The house, the bright lantern with surrounding grass, the birch tree, the boat and the dock allow the rest of the pieces fall into place.
Artist: Darrell Bush – Awared-winning artist Darrell Bush brilliantly captures the unspoiled, simple beauty of the outdoors. From a North Woods campsite to a polished wooden runabout resting on a quiet lake, Bush's acrylics suggest that these peaceful settings are only a memory away. He familiarizes the viewer with outdoor and wildlife subjects while often adding a touch of nostalgia.
In 1984,after graduating with a Bachelor of Fine Arts degree in commercial art from Northern Illinois University, Bush moved to Minnesota and worked as a commercial illustrator for five years. "It was during this time I began pursuing a second career, my true love, wildlife art," he said. In 1987, he won his first major award, the Idaho Uploand Game Stamp Competition. In 1990, he became a full-time artist and one year later signed with Hadley House.
Since then, Bush's success has escalated dramatically. He received international recognition when he was chosen for the September, 1996 "Wonders of Nature" exhibit in Hong Kong. U.S.ART named him among America's Most Popular Artists in 1995, 1996 and 1998.
He and his family reside in Moline. [Puzzle box, mistakes omitted]
By the same artist the other puzzles available in the series are: "Crescent Moon Bay", "The End of a Perfect Day", "Twilight Calm".