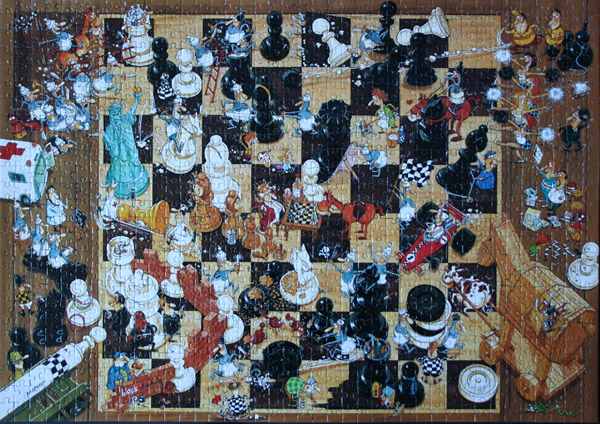 Size: 1000 pieces
Dimensions: 68cm x 48cm
Producer: Heye
Artist: Marino Degano (born 22 June 1960 in Udine in the Friuli-Venezia Giulia in Italy ) is an author, cartoonist and illustrator in Italy.
He is the creator of the comic strip La Cucaracha, published monthly in Science et Vie Junior. He is the author of drawings for the European press as well as numerous published by Heye puzzles in Munich.
Born in Italy, Marino Degano arrived in Germany at the age of two years. He grew up in Baden Baden in southern Germany, and studied at the School of Decorative Arts in Strasbourg. He published his first book "Focus on dragons" in 1986 by Glénat. He works as a freelance illustrator since 1985. [Wiki translation]
Notes: Degano has produced a very interesting chess game. The Statue of Liberty, a Trojan horse, a few machine guns and Knights that have some problems staying horsed. [Southwest Puzzles site]