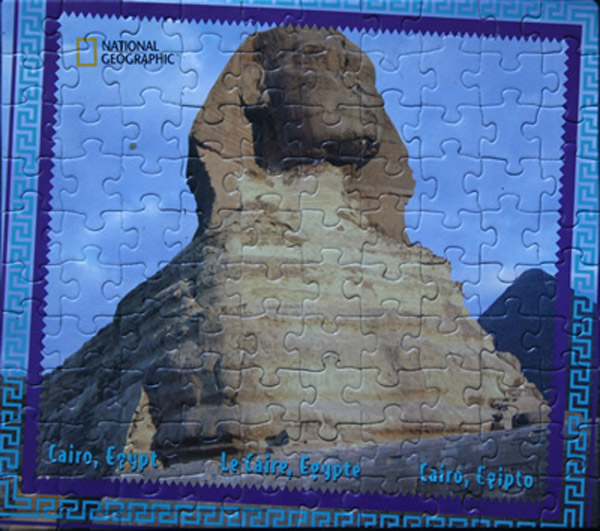 Size: 100 pieces
Dimensions: 23.17cm x 26.35cm
Producer: RoseArt, National Geographic series
Notes: Cairo (literally "The Vanquisher" or "The Conqueror"), is the capital of Egypt and the largest city in the Arab world and Africa, and the 16th largest metropolitan area in the world. Located near the Nile Delta, it was founded in the year 969 A.D. making it 1,042 years old. Nicknamed "The City of a Thousand Minarets" for its preponderance of Islamic architecture, Cairo has long been a centre of the region's political and cultural life. Cairo was founded by the Fatimid dynasty in the 10th century AD.; but the land composing the present-day city was the site of national capitals whose remnants remain visible in parts of Old Cairo. Cairo is also associated with Ancient Egypt due to its proximity to the ancient cities of Memphis, Giza and Fustat which are nearby to the Great Sphinx and the pyramids of Giza.
The area around present-day Cairo, especially Memphis, had long been a focal point of Ancient Egypt due to its strategic location just upstream from the Nile Delta. However, the origins of the modern city are generally traced back to a series of settlements in the first millennium. Around the turn of the 4th century, as Memphis was continuing to decline in importance, the Romans established a fortress town along the east bank of the Nile. This fortress, known as Babylon, remains the oldest structure in the city. It is also situated at the nucleus of Egypt's Coptic Christian community, which separated from the Roman and Byzantine church in the late 4th century. Many of Cairo's oldest Coptic churches, including The Hanging Church, are located along the fortress walls in a section of the city known as Coptic Cairo. [Wiki]