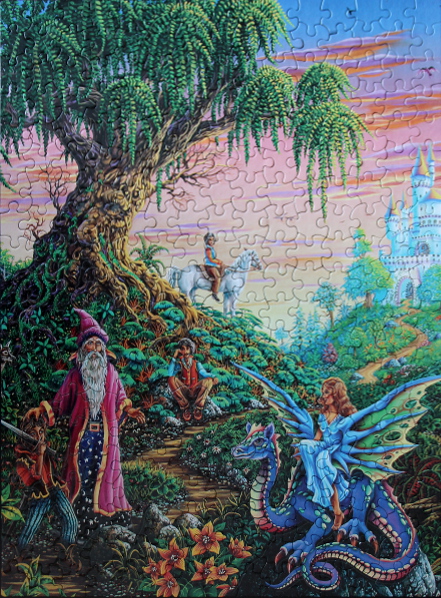 Size: 300 pieces
Dimensions: 27.94cm x 38.1cm
Producer: Ceaco, Glow in the Dark series, 10-puzzle pack, 2013, No. 103013-21081-A
Puzzle: This puzzle was one of my son's favourite, as it had a fairy, a wizard, a dragon, a horse, and a castle all in one. We assembled it together. Good places to start are the wizard's robe, the blue of the sky, the castle, the sky border with the hills, and the sunset-lit sky. This can be followed by the fairy, the dragon, the path from the castle to the bottom of the picture, and the tree trunk. From that point on, there are lots of green pieces, but the ones for the tree leaves, the moss, and the grassy hill by the castle are sufficiently different to make the assembly easy.