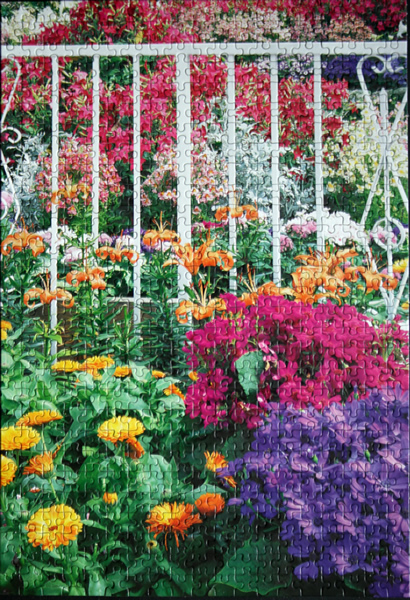 Size: 550 pieces
Dimensions: 33cm x 48.3cm
Producer: RoseArt, 1997, No. 99999RA
Puzzle: Not a trivial puzzle due to the shape and fit of the pieces, but not significantly difficult as it is only 550 pieces. The most logical part to tackle first is the fence, providing vertical and horizontal guidelines to the variety of small flower patches behind it. Once the fence is done, yellow flowers and orange lillies are the easiest to complete. The bottom right purple batch of flowers and the fuchsia one above are equally good to take on next, and the few remaining green pieces can then easily be placed.

Fence: A fence is a freestanding structure designed to restrict or prevent movement across a boundary. Fences are generally distinguished from walls by the lightness of their construction and their purpose. Walls are usually barriers made from solid brick or concrete, blocking vision as well as passage, while fences are used more frequently to provide visual sectioning of spaces. [Wiki]