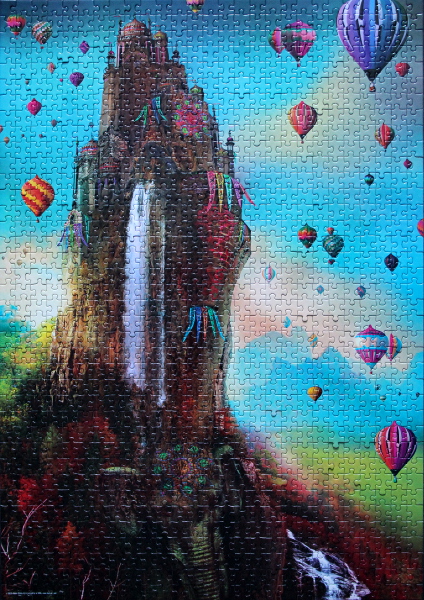 Size: 1000 pieces
Dimensions: 67.95 cm x 48.1 cm
Producer: Mega Puzzles, Fantastic Visions series, 2013, No. 50939AAN, A 23053 PP
Artist: Aimee Stewart – Aimee is a self-taught artist who specializes in lush, eclectic digital painting and photomanipulation.  Heavily inspired by music and literature, Aimee works from the heart to bring her unique and transporting visions to life,  whether they are surreal, storybook, or something plucked from 'otherwhere'.  In essence, she is a cartographer of the imagination, and a champion of daydreams. [Foxfires site]
Original: artwork
Puzzle: A beautiful fantasy puzzle, not completely trivial to put together. Some of the best places to start are the balloons, the coloured ribbons cascading from balconies, the waterfall, the multicoloured sky and grass, and the sky/castle boundary. From there on, filling out the rest of the pieces is a big slower but many small details are revealed in the process, making this puzzle a pleasure to assemble. Good quality pieces fitting together well.