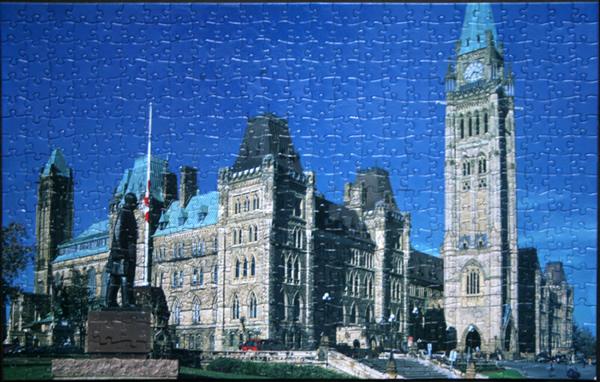 Size:  500 pieces
Dimensions: 43.5cm x 27cm
Notes: I do not have a record of the producer of this puzzle as I do not have the box anymore. A clarification is welcome – if you have any clue as to the details regarding this puzzle, I would much appreciate that information.

Canadian Parliament: The Parliament of Canada (French: Parlement du Canada) is the federal legislative branch of Canada, seated at Parliament Hill in the national capital, Ottawa. Formally, the body consists of the Canadian monarch—represented by her governor general—the Senate, and the House of Commons, each element having its own officers and organization. The governor general summons and appoints each of the 105 members of the upper house on the advice of the Prime Minister of Canada, while the 308 members of the lower house are directly elected by eligible voters in the Canadian populace, with each Member of Parliament representing a single electoral district, commonly referred to as a riding.
By constitutional convention, the House of Commons is the dominant branch of parliament, the Senate and Crown rarely opposing its will. The Senate thus reviews legislation from a less partisan standpoint, and the monarch and viceroy provide the necessary Royal Assent to make bills into law and summon, prorogue, and dissolve parliament in order to call an election, as well as reading the Throne Speech. [Wiki]