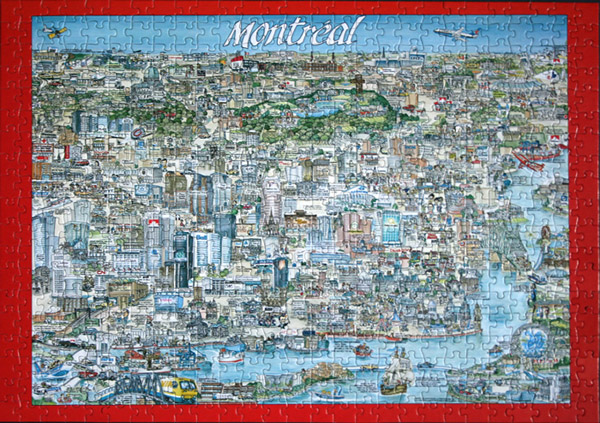 Size: 513 pieces
Dimensions: 54cm x 38cm
Producer: Buffalo Games, Inc., ©1991 Descartes, Inc.
Notes: "The City Character Jigsaw Puzzle: The jigsaw puzzle you are holding is one of the most unique on the market today. It is a historical perspective of a great North American city. On it you will find the landmarks, businesses, neighborhoods, and people which give this city its singular flavor and personality. This puzzle celebrates the character of the city and is both a challenging jigsaw puzzle and an unmatched souvenir. Designs are available for over thirty cities and we are addint more all the time.
City Character Jigsaw Puzzles are currently available for:
Atlanta
Austin
Baltimore
Boston
Buffalo
Chicago
Cincinnati
Cleveland
Columbus
Dallas
Dayton
Denver
Detroit
Erie
Houston
Indianapolis
Kansas City
Las Vegas
Los ANgeles
Miami
Minneapolis
Montreal
New Orleans
New York City
Niagara Falls
Philadelphia
Phoenix
Pittsburgh
San Francisco
San Antonio
St. Louis
Toronto
Washington"
[Puzzle box]