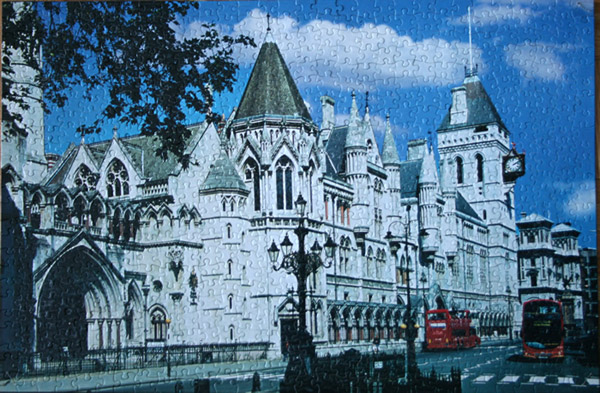 Size: 750 pieces
Dimensions: 59.7 cm x 39.4 cm
Producer: Sure-Lox, Impressions
Notes: The Royal Courts of Justice, commonly called the Law Courts, is the building in London which houses the Court of Appeal of England and Wales and the High Court of Justice of England and Wales. Courts within the building are open to the public although there may be some restrictions depending upon the nature of the cases being heard. The building is a large grey stone edifice in the Victorian Gothic style and was designed by George Edmund Street, a solicitor turned architect. It was built in the 1870s. The Royal Courts of Justice were opened by Queen Victoria in December 1882.
Entering through the main gates in the Strand one passes under two elaborately carved porches fitted with iron gates. The carving over the outer porch consists of heads of the most eminent Judges and Lawyers. Over the highest point of the upper arch is a figure of Jesus; to the left and right at a lower level are figures of Solomon and Alfred the Great; that of Moses  is at the northern front of the building. Also at the northern front, over the Judges entrance are a stone cat and dog representing fighting litigants in court. [Wiki]