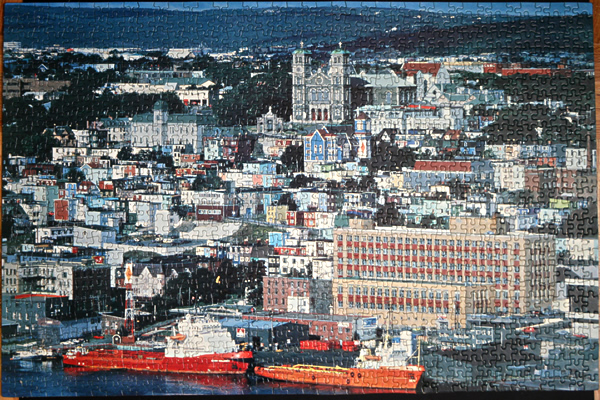 Size:  1000 pieces
Dimensions: 48 cm x 73 cm
Producer: Canada Games, 1993, #40605-10
Notes: This puzzle takes a bit of time, since there are almost no large solid regions, the boats, and the mountain-sky area being the exceptions. From that point on, the large beige-red building is probably the next logical step. Dark red and blue areas stand out the most, as well as orange diamonds, the cathedral, and dark tree areas. Good lighting is a bonus with this one.
St. John's, Newfoundland and Labrador: St. John's is the capital and largest city in Newfoundland and Labrador, and is the oldest English-founded city in North America. Its name has been attributed to the feast day of John the Baptist, when John Cabot was believed to have sailed into the harbour in 1497, and also to a Basque fishing town with the same name. The architecture of St. John's has a distinct style from that of the rest of Canada, and its major buildings are remnants of its history as one of the first British colonial capitals. Buildings took a variety of styles according to the means available to build the structures.
St. John's was the starting point for the first non-stop transatlantic aircraft flight, by Alcock and Brown in a modified Vickers Vimy IV bomber, in June 1919, departing from Lester's Field in St. John's and ending in a bog near Clifden, Connemara, Ireland. [Wiki]