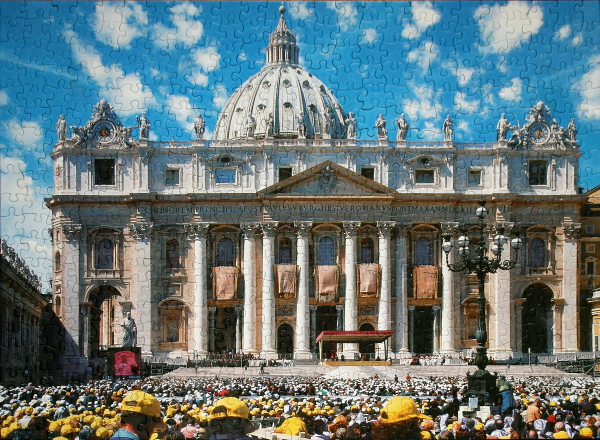 Size: 500 pieces
Dimensions: 48.5 cm x 35.5 cm
Producer: Sure-Lox, The Canadian Group
Puzzle: A lovely puzzle to put together, yet not completely trivial for a beginner. A good place to start is the border of the sky and the building which isolates the top third of the puzzle and provides a horizontal guide to assist in further assembly. The pillars and the lantern post make for good vertical guides. The dome, the windows, the dark archways, the red roof of the stage, the letters above the pillars, the dark building on the left, and the yellow hats of the people at the bottom are all relatively easy to put together. After that, it's the parts of the building and the sky that are remaining.

Notes: St. Peter's Basilica is a Late Renaissance church located within Vatican City.
Designed principally by Donato Bramante, Michelangelo, Carlo Maderno and Gian Lorenzo Bernini, St. Peter's is the most renowned work of Renaissance architecture and remains one of the largest churches in the world. While it is neither the mother church of the Catholic Church nor the Catholic Roman Rite cathedral of the Diocese of Rome, St. Peter's is regarded as one of the holiest Catholic sites. It has been described as "holding a unique position in the Christian world" and as "the greatest of all churches of Christendom". [Wiki]