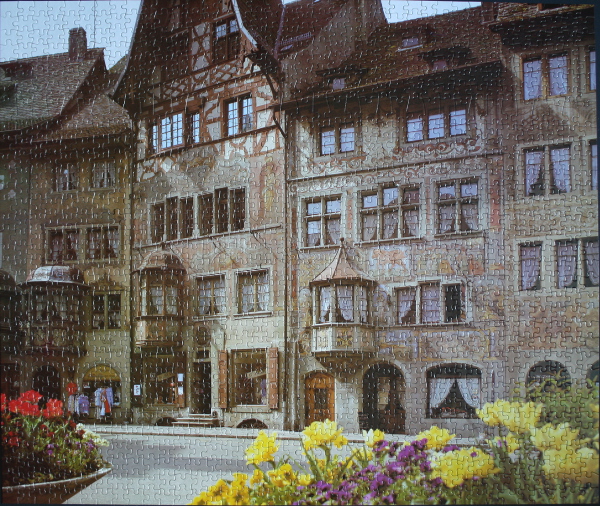 Size:  1250 pieces
Dimensions: 72.4 cm x 61.8 cm
Producer: Waddington Sanders, 1987, #116-3

Puzzle: This puzzle is best done leisurely, as it is large and there are quite a few distinct regions. I have started with the windows and the ridges between floors and parts of the building to define the vertical and horizontal guides. The flowers and the street as well as the roof/sky line can be made easily as well. The rest of the walls with frescoes take a bit more time, and good lighting is a plus. The pieces fit together reasonably well.

Notes: Stein am Rhein is a municipality in the canton of Schaffhausen in Switzerland. The town has a well-preserved medieval centre, retaining the ancient street plan. The site of the city wall, and the city gates are preserved, though the former city wall now consists of houses. The medieval part of the town has been pedestrianised and many of the medieval buildings are painted with beautiful frescoes. [Wiki]