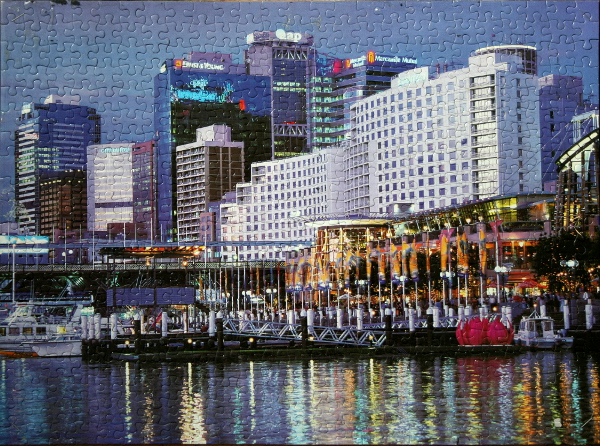 Size: 500 pieces
Dimensions: 48.5 cm x 35.5 cm
Producer: Sure-Lox, The Canadian Group
Puzzle: A simple puzzle to do, and due to Sure-Lox well-fitting pieces a fast one. The uniform colour of the sky and the highlights on the water are good places to start, as well as the larger white/lilac building. The orange flags and the building behind them, as well as the darker skyscrapers pave way for the rest of the pieces to fall into place.

Notes: Sydney is the state capital of New South Wales and the most populous city in Australia. It is on Australia's south-east coast, on the Tasman Sea. Inhabitants of Sydney are called Sydneysiders, comprising a cosmopolitan and international population.
The site of the first British colony in Australia, Sydney was established in 1788 at Sydney Cove by Arthur Phillip, commodore of the First Fleet, as a penal colony. The city is built on hills surrounding Port Jackson, which is commonly known as Sydney Harbour, where the iconic Sydney Opera House and the Harbour Bridge are prominent structures. [Wiki]