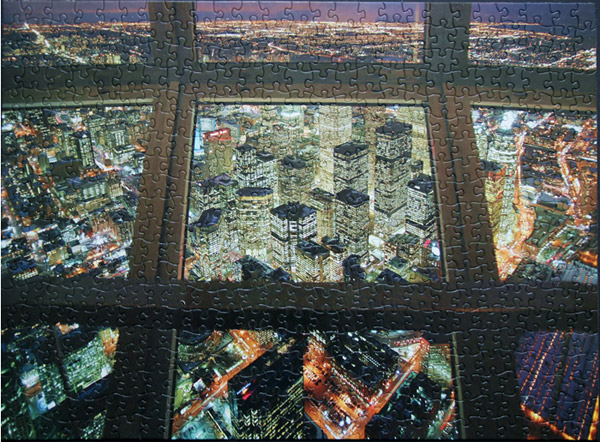 Size: 500 pieces
Dimensions: 48.26cm x 35.56cm
Producer: Sure-Lox, City Scapes series
Notes: The CN Tower is a communications and observation tower in Downtown Toronto, Ontario, Canada. Standing 553.33 metres tall, it was completed in 1976, becoming the world's tallest free-standing structure and world's tallest tower at the time. It held both records for 34 years until the completion of the Burj Khalifa and Canton Tower. It remains the tallest free-standing structure in the Western Hemisphere, a signature icon of Toronto's skyline, and a symbol of Canada.
Its name "CN" originally referred to Canadian National, the railway company that built the tower. Following the railway's decision to divest non-core freight railway assets, prior to the company's privatization in 1995, it transferred the tower to the Canada Lands Company, a federal Crown corporation responsible for real estate development. Since the name CN Tower became common in daily usage, the abbreviation was eventually expanded to Canadian National Tower or Canada's National Tower. However, neither of these names is commonly used. [Wiki]