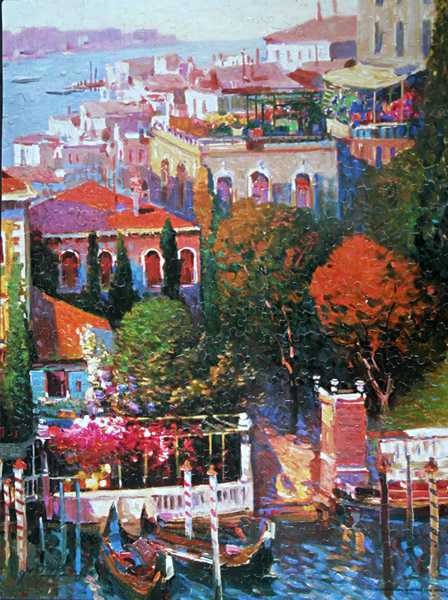 Size: 550 pieces
Dimensions: 61cm x 46cm
Producer: Hasbro, Milton Bradley, Picture Perfect series
Artist: Ming Feng was born on June 14, 1957 in Guangzhou (formerly Canton), China. Guangzhou, known as the "Flower City," is situated in a subtropical area surrounded by lush trees, crisscrossing rivers and babbling brooks. "Nature's beauty stirred my longing for art and its colorfulness gave wings to my imagination. I could not help but attempt to capture its beauty on paper. Perhaps that was the burgeoning of my passion for art. I was twelve."
In 1988, Ming immigrated to the United States with his parents and settled in New York. The diversity of art there broadened his horizon while the market offered him more opportunities to show his paintings. He lived near New England's Cape Cod and Martha's Vineyard, which today still remain his favorite places and the sources of his inspiration. [Framing Box site]
Notes: Beautiful puzzle cut with gaps being nearly invisible. Pieces fit together perfectly and there is no paper dust. A pleasure to assemble, glue, and display.