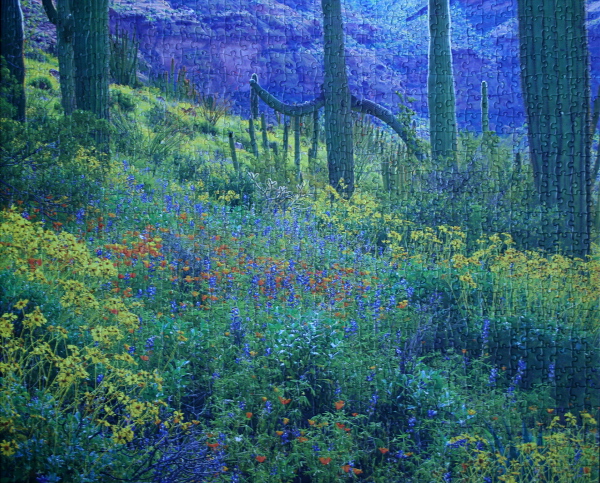 Size: 1000 pieces
Dimensions: 63.5 cm x 50.8 cm
Photographer: Tim Fitzharris, designed by Lisa Reid
Producer: Pomegranate Communications, Artpiece Puzzle series, Sierra Club, Catalog No: SC0403, ISBN: 978-0-7649-4095-8
Puzzle: Not a completely trivial puzzle to do as the flower regions contain small similar details across a large part of the puzzle. The cacti are easiest to do as they provide vertical guides for the top of the puzzle, and the purple backdrop can be filled in easily. For the flowers, tackling the top area among the cacti is easiest, followed by the regions of similar colour: yellow flowers and darker patch in the bottom right corner. The rest of the flowers are a matter of patiently filling things in. The pieces are good quality and fit together well.

Notes: "Sierra Club's Mission:

To explore, enjoy and protect the wild places of the earth;
To practice and promote the responsible use of the earth's ecosystems and resources;
To educate and enlist humanity to protect and restore the quality of the natural and human environment;
And the use all lawful means to carry out these objectives.
A portion of the proceeds of the sale of this puzzle supports Sierra Club's efforts to preserve and protect the planet [www.sierraclub.org].
Thoughtfully conceived and engagingly intricate, Pomegranate's 1000-piece interlocking jigsaw puzzles combine superb color reproduction, stunning and unusual images, and sturdy construction to delight generations of puzzle solvers. Among our many artists are Frank Lloyd Wright, Louis Comfort Tiffany, Maxfield Parrish, John William Waterhouse, Romare Bearden, Jules Chéret, Jean-Michel Basquiat, Edward Gorey, Tom Thomson, and Susan Seddon Boulet." [Puzzle box]