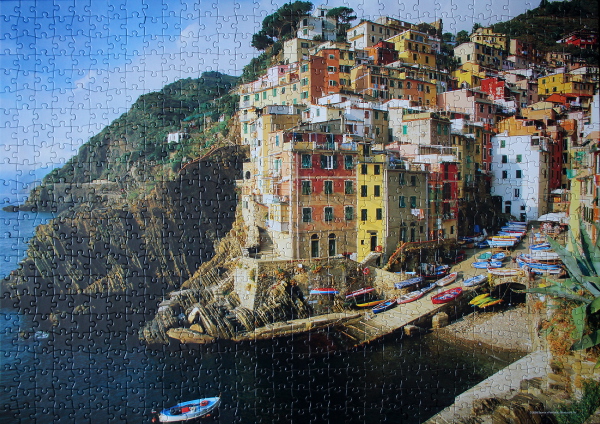 Size: 750 pieces
Dimensions: 48.10 cm x 68 cm
Producer: Mega Puzzles, Windows to the World series, 2008, No.50580, 8006528 FO
Photographer: John and Debora Scanlan

Puzzle: Beautiful puzzle, lots of small detail adding to the challenge, but larger areas of gradient colours and the manageable size of 750 pieces make the assembly easier. Great places to start are the sky, the dark of the water, and the green hill bordering the sky. Bottom right region of uniform beige, the colourful stripes of the boats, and the ridged area near the water, in the bottom right quarter, as well as the close-up of a green plant at the bottom right, can be tackled next.
Larger buildings such as the orange/red one in the middle of the picture, yellow one next to it, and the white one ending the row of boats can be done next. From that point, it's a bit more challenging, but vertical guides of completed buildings can help place the rest. Lovely imagery and fun to assemble.
Notes: Riomaggiore is a village in the province of La Spezia, situated in a small valley in the Liguria region of Italy. The village, dating from the early thirteenth century, is known for its historic character and its wine, produced by the town's vineyards. [Wiki]
Riomaggiore is the most southern village of the Cinque Terre ("The Five Lands"), a rugged portion of coast on the Italian Riviera. Cinque Terre is comprised of five villages: Monterosso al Mare, Vernazza, Corniglia, Manarola, and Riomaggiore. Over the centuries, people have carefully built terraces on the rugged, steep landscape right up to the cliffs that overlook the sea. Part of its charm is the lack of visible corporate development. Paths, trains and boats connect the villages, and cars cannot reach them from the outside. [Wiki]
Save
Save