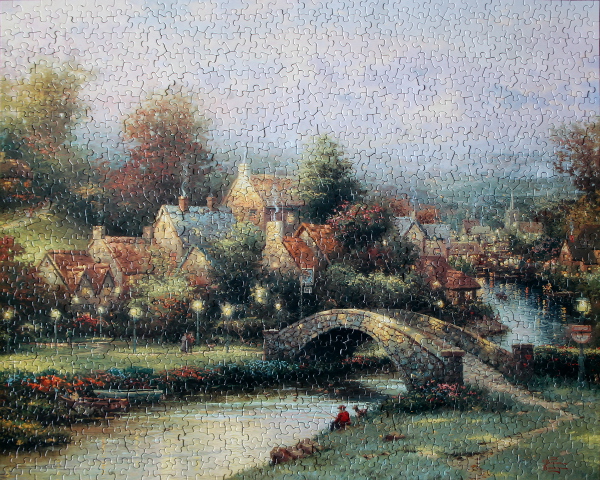 Size: 1000 pieces
Dimensions: 76 cm x 61 cm
Manufacturer: Springbok, Hallmark, PZL6196
Artist: Thomas Kinkade
Original: photograph
Puzzle: Peaceful imagery, challenge added by irregularly-shaped pieces. Good lighting is a bonus, especially for the sky. Good places to start are water, grass, boundaries between them, bright flowers, tree canopies, the bridge and house roofs.
"My art is nothing more than a reflection of who I am as a person — what I value, believe, and experience." With those words, Thomas Kinkade paints a picture of his life for all to see. His delightful paintings transport us to a gentler time and a lovelier place and give us a glimpse into the thoughts and feelings behind Thomas Kinkade.
Working under the guidance of two mentors — Charles Bell, considered one of America's best sign painters, and Glenn Wessels, an associate of Hemingway, Picasso, and Ansel Adams — Kinkade began to develop his unique style which would delight his fans for years to come. The radiant light that permeates his work captures the perfection that exists only in places that touch our imaginations and our hearts.
In LAMPLIGHT VILLAGE, the fourth painting in the Lamplight Lane series, the Brooke Windermer gently wanders through this idyllic locale. With his trademark style, Kinkade produces wonderful effects with the interplay of sun and lamplight. The blaze of sunset makes silhouettes of the trees and dapples the village row houses; the twinkle of distant lamps enhances the dance of light and shade. Villagers stroll along the warmly lit paths, while a fisherman and his dog wait for a bite at the river's edge. The tower and spire of the Gothic church in the distance hints at a fascinating history; this is a town that invites exploration. [Puzzle box, Selected text © 1995 Abbeville Press, from Thomas Kinkade's Paintings of Radiant Light]