Pregnancy is a magical time. The day you find out you are pregnant, your world changes. Suddenly, your body is more than that: it is a vessel for another human being. The following weeks will be filled with discoveries about the strength of your body and the depth of your love, anticipation of feeling the baby move and hearing their heartbeat, and counting the months and days before you get to meet your baby.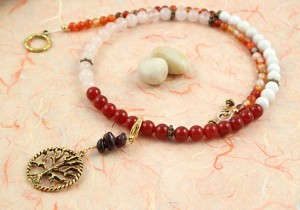 When I was pregnant with my first baby, I found a browser-based little applet to keep track of which week of pregnancy I was in, so I could plan my time and anticipate various milestones. However, I have found computer-based trackers to be very impersonal and cold. I realized that I wanted something more palpable, like Tibetan Mala beads, to finger each week, to think on the baby growing inside me, and to acknowledge another week that passed, by moving a charm. So for my second pregnancy, I have created a gemstone pregnancy tracking necklace. I have enjoyed quiet minutes of contemplation while holding it and acknowledging the passing time. It helped me get grounded in the moment and connect with my growing baby. After birth, I realized that the necklace is a beautiful keepsake that I can save to share with my child in the future.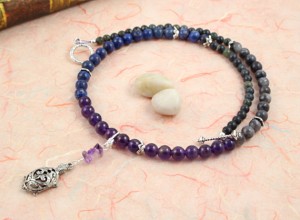 As I went on maternity leave, I have started playing with gemstones some more, and have created more pregnancy tracking necklace designs. There are beautiful gemstones that are connected to pregnancy, lactation, birth, moon cycles, compassion, sex drive, self-confidence, happiness, and strength. Since I have enjoyed my necklace so much, I am now offering these necklaces in my Etsy store, with customizable charms, including the Birth Goddess, the Tree of Life, and a variety of other designs. A pregnancy tracking necklace makes a great gift for a pregnant mama, and will become a gift for her baby after the birth.
The necklaces have 43 large beads, indicating the number of weeks your pregnancy might last. Trimesters are indicated in different colours, and there are separators for every 10 weeks, so you can tell where you are at a glance.
The different gemstones I use in my pregnancy tracking necklaces
Red Carnelian is said to stimulate and balance the female reproductive system, reduce stress and anxiety, and help protect against miscarriage.
Labradorite symbolizes the moon and the sun, and is known for promoting strength, reducing stress and anxiety, assisting with digestion, and transformation.
Unakite is said to promote healthy pregnancy and delivery.
Garnet is said to promote devotion, bring love and compassion, balance sex drive and emotions, and indicates commitment to a purpose, as well as clarity of thought and intention.
Agate is a stone of relaxation and calm. It assists in grounding, pain relief, and balancing Yin and Yang energies.
Lapis lazuli aids in harmony, inner peace, and healing, strengthens bonds and brings self-confidence.
Amethyst is said to bring stability, strength, and peace, promote balance and healing, and reduce stress.
Aventurine is said to bring love, promote luck, optimism, self-confidence, and happiness, encourage pregnancy and enhance fertility.
Malachite is said to bring luck, promote physical healing, encourage creativity and transformation.
Chalcedony is said to bring tranquility and optimism and to promote lactation in nursing mothers.
Moonstone is known for balancing emotions, regulating menstrual cycle, boosting female energy, and calming anxiety. It is said to bring love and grant wishes.
Snow Quartz promotes peaceful sleep and soothing dreams, and is associated with empathy and harmony.
Turquoise is associated with protection, strength, alleviating negativity, grounding, and courage. It is believed to bring love and luck.
Rose Quartz is protective in pregnancy and birth. It balances emotions, helps with emotional healing, and is associated with forgiveness, compassion, and releasing anger and fear.
The charms and their symbolism
Tree of Life – immortality and fertility
Birth Goddess – fertility, birth and growth
Butterfly – fertility, rebirth, transformation
Turtle – fertility, longevity, good fortune
Key – liberation, knowledge, initiation, way to one's heart
Horseshoe – good luck and protection
Dragonfly – joy, lightness of being, good luck, transformation, and harmony
Frog – fertility, love, giving birth to new life
Elephant – fertility and pregnancy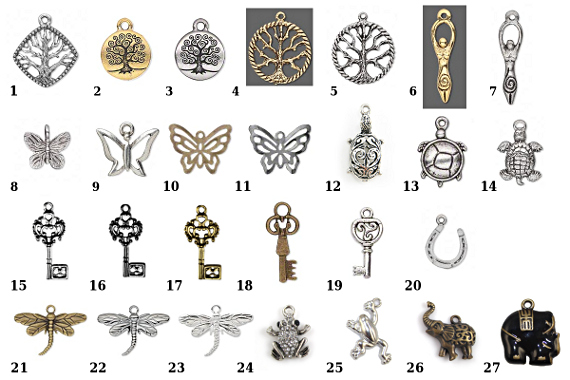 How to use your pregnancy tracking necklace
I have also designed a card explaining how to use the necklace, which I send along with every necklace order.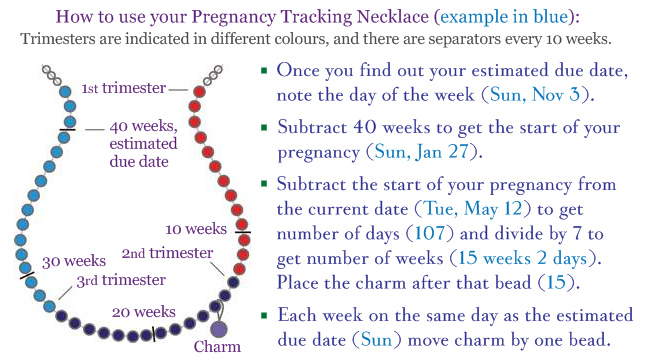 When you receive the necklace, place the charm after the bead indicating the number of weeks you are along in your pregnancy (e.g., if you are 15 weeks along, place the charm after bead 15). You would start from the end that has 10 large beads as its first segment.
Each week on the same week day as the estimated due date (e.g., Sunday) move charm by one bead.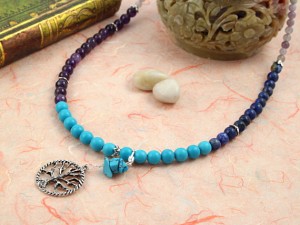 If you do not know how far along you are in your pregnancy, here is how to calculate it (there is a free online tool that can help you with date subtractions):Once you find out your estimated due date, note the day of the week (e.g., Sunday, Nov 3, 2013).
Subtract 40 weeks to get the start of your pregnancy (e.g., Sunday, Jan 27, 2013).
Subtract the start of your pregnancy from the current date (e.g., Tue, May 12) to get number of days (e.g., 107) and divide by 7 to get number of weeks (e.g., 15 weeks 2 days). Place the charm after that bead (e.g., you are now 15 weeks along).
Pregnancy is the time to slow down, listen to your body, learn about your strength, and connect with your baby. Take a minute each week on the same day to move the charm and focus on where your body is right now in your pregnancy journey. I wish you a peaceful birth and a wonderful babymoon.