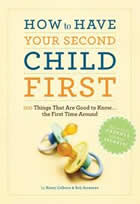 Title: How to Have Your Second Child First: 100 Things That Would Have Been Good to Know the First Time Around
Author: Kelly Colburn and Rob Sorensen
Source: Veddma library
ISBN: 9780811869881
Available online
Notes: Second time parents have to juggle responsibilities of taking care of more than one child at the same time. This naturally cuts down on the amount of attention given to each child compared to constantly attending to the needs of a single offspring. Thus this book encourages the first time parents to relax the strict rules and expectations of how the child should be brought up, rest more, not to sweat the small stuff, and not to hover too much over their first child.
This book is full of tips from second time parents outlining the areas of childcare where shortcuts can be taken, as well as tricks that will help parents in social situations. Among other things, the authors cover:
sleep and night time noises,
breastfeeding issues,
support system,
sterilizing baby equipment,
combining laundry,
food, rest, and relaxation for grown-ups,
being able to party,
parental comfort zone,
dealing with tantrums,
baby classes,
the witching hour,
everything being a stage that will pass,
bathing and playing with the baby,
dealing with lack of productivity and "not doing anything all day",
not overpacking for outings,
dealing with relatives and relationship issues,
trusting your instincts,
experimenting,
discipline,
TV and licensed characters exposure,
solid food introduction,
baby toys and childproofing,
accomplishing things while the baby is awake,
dining out,
traveling by air,
and keeping a sense of humour.
The book is packed with useful advice aimed at lowering the parents' stress level and allowing them to enjoy parenthood the first time around.