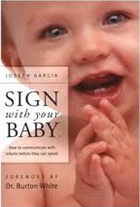 Title: Sign with your baby: How to communicate with infants before they can speak
Author: Joseph Garcia
Source: Ottawa Public Library
ISBN: 0963622927
Available online
Notes: This is a useful book for people who want to start signing with their babies. It outlines in a straightforward manner the benefits of sign language (in this case ASL) to infants that do not yet talk and the order in which to introduce the terms. The author also covers ways to combine terms, how and when to introduce a sign, and how to create games using the signs a child learned.
The second part of the book is a dictionary covering a variety of terms together with their signs. It appears the book would be even more useful combined with the DVD produced by the same author, and perhaps the index cards that are available on the author's site (www.sign2me.com). As it stands, I only had access to the book, and as the earliest age the child is able to remember the signs appears to be 7 months, I might have to come back to it when the time comes.