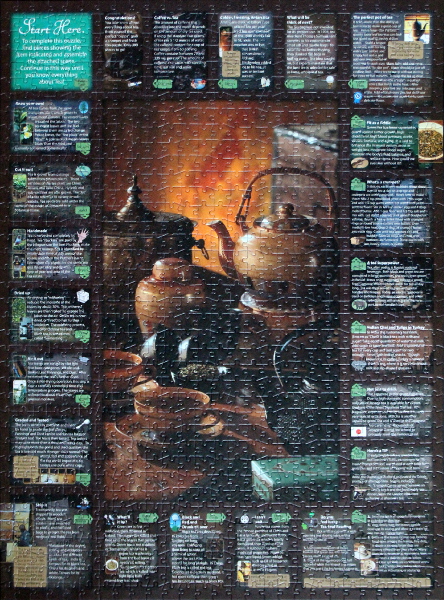 Size: 1026 pieces
Dimensions: 51.12cm x 66.52cm
Producer: Buffalo Games, Inc., Café series, 2002
Photographer: Szczepaniak/Getty Images
Puzzle: As interesting as this idea is in theory, I did not enjoy this puzzle much in practice. Sure, learning about the history and making of tea is enlightening, yet I do not think a puzzle is the appropriate medium for this. Putting together the perimeter with the small text was tedious and did not make reading the text easy until the puzzle was complete. The green arrows with headings, and the colour of the small images for each paragraph (that are so tiny it is hard to tell what is depicted on them), can serve as guides to the placement of the puzzle pieces.

The photo in the middle was more pleasant to do, as by itself it would have made a beautiful puzzle. The orange and red of the background, the shiny highlights on the tea pots, tins, and cups, and the contrasting curves of the dish edges are good places to start.
There is a poster that comes with the puzzle (since the box is too small to fit all the detail you would need as a reference image), and I found it much more enjoyable reading the poster afterwards than trying to follow the tea story on the completed puzzle.
Notes: "All about tea puzzle – a story to assemble.
A Stimulating Jigsaw Puzzle that tells you how to put it together!
The Puzzle tells a Story…
This 1000 piece puzzle features a beautiful picture of tea, surrounded by colorful scenes detailing its rich history. You'll become a tea expert and have a terrific story-telling puzzle to display or work again.
…the Story makes a Puzzle
The puzzle leads you through the story by telling you which pieces to find next. Search for the symbols on the pieces, and assemble the attached scene. Each scene uncovers fascinating facts or amazing trivia… and then leads you to the rest of the story!" [Puzzle box]