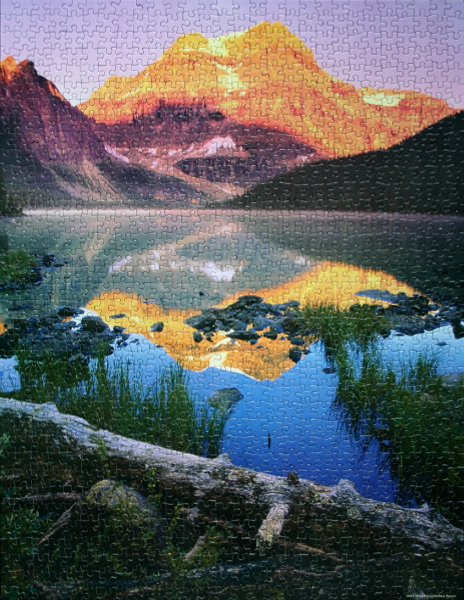 Size: 1000 pieces
Dimensions: 51.12 cm x 66.52 cm
Producer: Big Ben, MB Puzzles, Hasbro, 2007, 04962-N03
Puzzle: Beautiful serene puzzle to make.  Despite its size, the assembly flows smoothly due to distinct separate regions of colour separated by clear borders. The lavender of the sky, the yellow, purple, and black mountains, their clearly separated reflections and the horizontal divide of the water edge are a breeze to put together. The blue of the water, the rock regions, the green grass patches, and the guide made by the log, let the rest of the pieces fall into place.

Notes: Banff National Park is located in the province of Alberta in the Canadian Rocky Mountains. In the fall of 1883, three Canadian Pacific Railway construction workers stumbled across a cave containing hot springs on the eastern slopes of Alberta's Rocky Mountains. From that humble beginning was born Banff National Park, Canada's first national park and the world's third. Spanning 6,641 square kilometres of valleys, mountains, glaciers, forests, meadows and rivers, Banff National Park is one of the world's premier destination spots. [Banff National Park site]