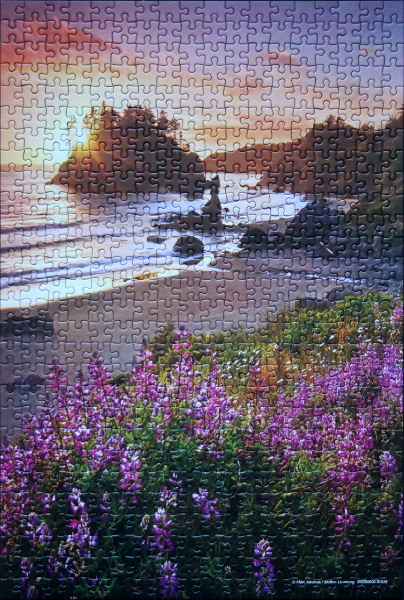 Size: 500 pieces
Dimensions: 34 cm x 50 cm
Producer: Hasbro, MB Puzzle, Deluxe Puzzle series, 2010, #355260000-35528
Photographer: Marc Adamus
Photo: original
Puzzle: A lovely puzzle, not very trivial for a beginner. The flowers at the bottom present the most challenge due to the similarities of the purple-on-green pattern through most of them. Thus it's simpler to start with the top part of the puzzle. The distinct regions of the sky, the clouds, the sun, the hills, the water, and the sand, followed by the sand border with the green grass can be filled in easily. The flowers can be assembled by starting on the darker regions at the bottom first, and narrowing the remaining area by assembling the top grassy patch with orange and small white flowers. Then the rest of the flowers can be put together.

Notes: "Lupine flowers glow in the last light of sunset overlooking the sea stacks and sandy beaches of the Northern California coast." [Marc Adamus site]