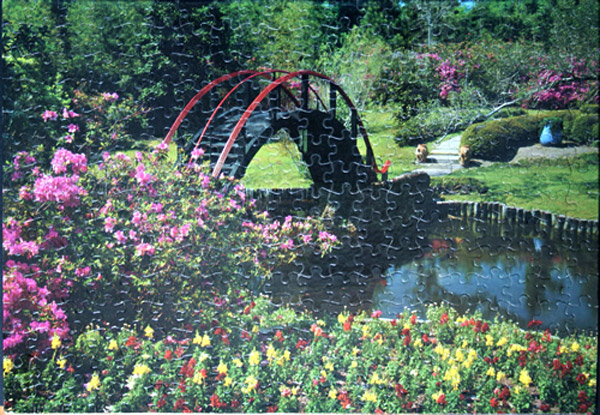 Size: 500 pieces
Producer: MB Puzzle, Little Big Ben series
Notes: Bellingrath Gardens and Home is a 26 ha botanical garden and mansion located on the Fowl River in Theodore, a suburb of Mobile, Alabama. The gardens include a bridal garden, a conservatory, a great lawn, a nature walk, an Oriental garden, a rose garden, a chapel, the Mermaid Pool, Mirror Lake, an observation tower, and a river pavilion where river cruises are provided on the Southern Belle and the "Kingfisher".
The garden pathways are composed of flagstone that had been obtained from the old city sidewalks in Mobile, where they had been in place since arriving as ballast in sailing vessels collecting loads of cotton for the mills at Manchester, England.
The gardens feature live oaks, camellias, azaleas, roses, and chrysanthemums year round. Plants featured in winter are tulips, snapdragons, pansies, ornamental cabbage and kale, daffodils, poppies, primroses, and many varieties of narcissus. Plants featured in spring include the more than 250,000 azaleas, hydrangeas, Easter lilies, impatiens, salvia, fuchsia, and Pelargonium geraniums. Plants featured in summer are the more than 2000 roses, allamandas, hibiscus, copper plants, begonias, ornamental peppers, bougainvillea, caladiums, coleus, vinca, and marigolds. Plants featured in fall are over 8,000 bedded, potted and cascading chrysanthemums, hibiscus, and copper plants. [Wiki]