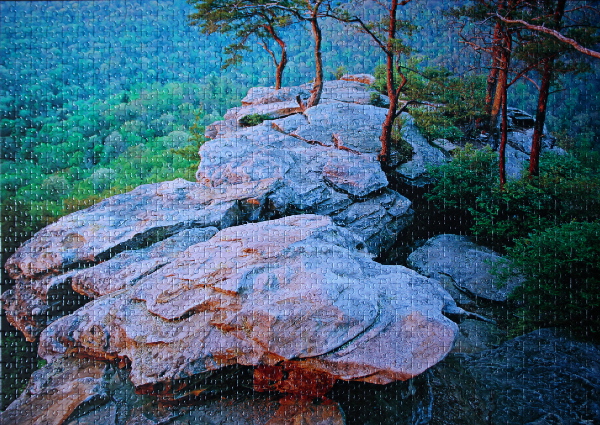 Size: 1000 pieces
Dimensions: 67.95 cm x 48.1 cm
Producer: Mega Puzzles, Vibrant series, 2013, No. 51420ABN, A28103LP
Artist: Very unfortunately, Mega Puzzles prints a copyright for the entire series with several names of the artists (as opposed to the name of a single photographer who owns a particular featured image), and even through searching I was not able to determine which artist took this photo. If you have that information, please let me know.
Original: photo
Puzzle: Not a very trivial, but a pleasant puzzle to do. The pieces fit together well, and that removes quite a bit of ambiguity, despite many regions with similar colours. I have started with the tree trunks in the top right, the boundary between the rocks and the trees in the top left, the black cracks and shadows among the rocks, and the red rock patches. From that point on, brighter green and bluish-grey rocks can be completed with the help of black shadows under the smaller ridges. Blue and green small trees in the top left are distinct enough from the dark green bushes on the right, and the darker grey area in the bottom right corner can easily be distinguished as well.

Notes: Fall Creek Falls, a 256-foot (78 m) plunge waterfall located just west of the creek's confluence with Cane Creek. A short trail leads from the parking lot atop the plateau down to the base of the gorge, giving access to the waterfall's plungepool. Buzzard's Roost is a cliff located near Millikan's Overlook. [Wiki]