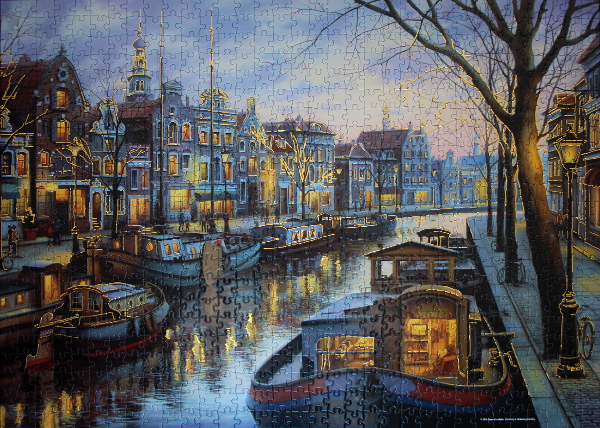 Size: 750 pieces
Dimensions: 67.94 cm x 48.10 cm
Producer: Mega Puzzles, Reflections series, 2015, CxC27 ASST DFD77, 966B, A10055LP, #50572
Artist: Evgeny Lushpin
Puzzle: Lovely city waterfront view with old buildings, bare trees, lanterns and lit windows, and the calm waters of the canal. Challenge is added by subdued colours and similar patterns of window light and blue/purple buildings, but the puzzle is not large and pieces fit well. Due to reflective golden highlights, good lighting is a bonus for this one.
Good places to start are the sky and its boundary with the buildings, the large tree at the far right, and the boat closest to the bottom with its lit interior. From there on, it takes a bit of time to assemble windows and the buildings. Reflections in the water help with the river and the boat boundaries. Steeples and building edges serve as vertical guides for the buildings. Overall, a serene and relaxing puzzle.