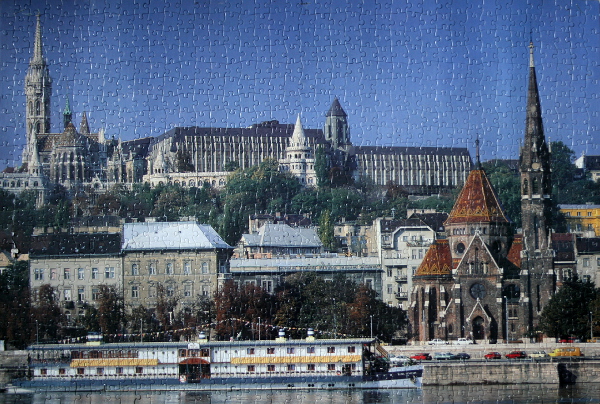 Size: 1000 pieces
Dimensions: 73 cm x 48.57 cm
Producer: Sure-Lox, The Canadian Group
Puzzle: A slower-going puzzle, due to a large uniform-coloured sky and similar building colours. Good places to start are the borders between the sky and the building roofs, as well as the river and the long white and yellow building along the river. The darker church, the bright cars, and the larger white areas of building roofs can follow. The rest of the regions are similar in complexity to fill in.

Notes: Budapest is the capital and the largest city of Hungary, and one of the largest cities in the European Union. Budapest became a single city occupying both banks of the river Danube with a unification on 17 November 1873 of west-bank Buda and Óbuda with east-bank Pest. [Wiki]