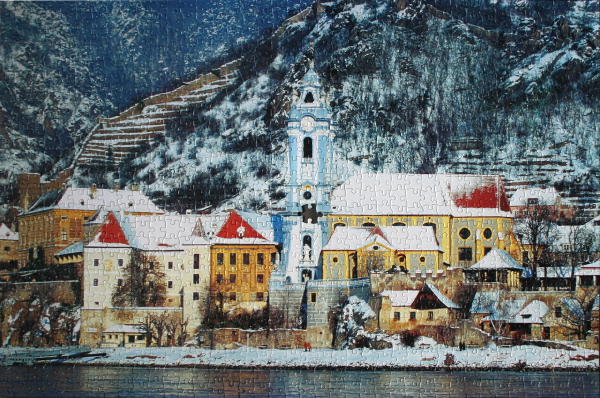 Size: 1000 pieces, 1 missing
Dimensions: 73 cm x 48.57 cm
Producer: Sure-Lox, The Canadian Group
Puzzle: Not a completely trivial puzzle to complete, due to the snow and trees on the mountains forming a somewhat-uniform pattern. It is simple to start from the more prominent regions, such as the bright buildings, the river/snow border, the snow on the roofs, and the steps going up into the mountains. Once that is done, the top mountain range is separated into mostly blue and mostly black regions, and the central blue tower serves as a vertical guide to assist the completion. The Sure-Lox pieces fit together well and simplify the process that would have been harder with more loosely-fitting pieces.

Notes: Dürnstein is a small town on the Danube river in the Krems-Land district, in the Austrian state of Lower Austria. It is one of the most visited tourist destinations in the Wachau region and also a well-known wine growing area.
The town gained its name from the medieval castle, Burgruine Dürnstein, which overlooked it. The castle was called "Duerrstein" or "Dürrstein", from the German duerr/dürr meaning "dry" and Stein, "stone". The castle was dry because it was situated on a rocky hill, high above the damp conditions of the Danube at the base of the hill, and it was built of stone. [Wiki]