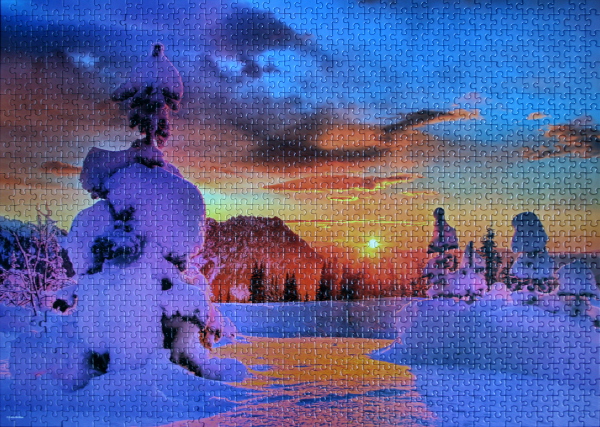 Size: 1000 pieces
Dimensions: 67.95 cm x 48.1 cm
Producer: Mega Puzzles, Vibrant series, 2013, No. 50420AAN, A 29073 LP
Artist: Kevin McNeal
Original: Last Bit Of Light – Paradise Area, Mount Rainier National Park, Washington
Puzzle: A beautiful puzzle that I managed to complete within a span of a single day, so easily the flow of piece placement continued. I have started with the sun, the orange and red regions of the sky, mountains, and snow, and the clouds, continuing to the pink highlights on the trees and the snow, the multiple colours of the sky, and finishing up with the purple of the snow and the bright blue of the sky at the top. A vibrant, peaceful, entrancing puzzle.

Notes: Mount Rainier is a massive stratovolcano located 87 km southeast of Seattle in the state of Washington, United States. It is the most topographically prominent mountain in the contiguous United States and the Cascade Volcanic Arc.
Typically, up to five earthquakes are recorded monthly near the summit. Swarms of five to ten shallow earthquakes over two or three days take place from time to time, predominantly in the region of 4 km below the summit. These earthquakes are thought to be caused by the circulation of hot fluids beneath Mount Rainier. Presumably, hot springs and steam vents within Mount Rainier National Park are generated by such fluids.
Glaciers are among the most conspicuous and dynamic geologic features on Mount Rainier. They erode the volcanic cone and are important sources of streamflow for several rivers, including some that provide water for hydroelectric power and irrigation. [Wiki]