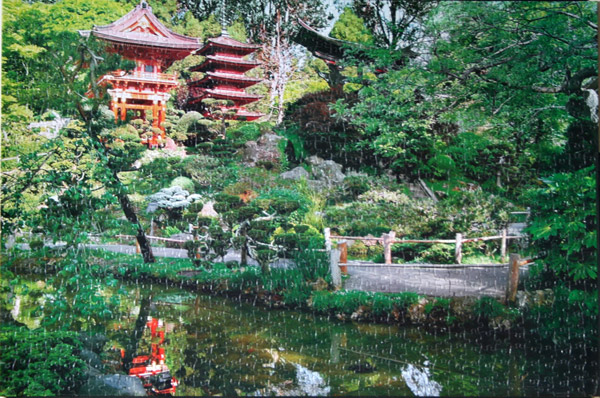 Size: 1000 pieces
Dimensions: 73cm x 48.5cm
Producer: Impressions, Sure-Lox
Notes: Golden Gate Park, located in San Francisco, California, is a large urban park consisting of 412 ha of public grounds. Configured as a rectangle, it is similar in shape but 20% larger than Central Park in New York, to which it is often compared. It is over 5 km long east to west, and about half a mile north to south. With 13 million visitors annually, Golden Gate is the third most visited city park in the United States after Central Park in New York City and Lincoln Park in Chicago.
The 2 ha Japanese Tea Garden is the oldest public Japanese garden in the United States. The garden was designed by Makoto Hagiwara for the California Midwinter International Exposition of 1894, including still-standing features such as the Drum Bridge and the tea house. Subsequent additions included a pagoda and Zen garden. It is the site of the introduction of the fortune cookie to America. [Wiki]