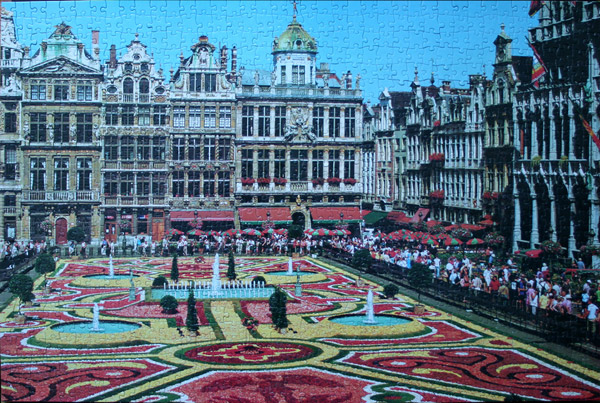 Size: 1000 pieces
Dimensions: 73cm x 48.6cm
Producer: Sure-Lox, Classic Treasures series, #41610-42
Notes: The Grand Place or Grote Markt About this sound listen is the central square of Brussels. It is surrounded by guildhalls, the city's Town Hall, and the Breadhouse.
In the 10th century, Charles, Duke of Lower Lorraine constructed a fort on Saint-Gery Island, the furthest inland point at which the Senne river was still navigable. This was the seed of what would become Brussels. By the end of the 11th century, an open-air marketplace was set up on a dried-up marsh near the fort that was surrounded by sandbanks. The market was called the Nedermerckt, or Lower Market.
Every two years in August, an enormous "flower carpet" is set up in the Grand Place for a few days. A million colourful begonias are set up in patterns, and the display covers a full 24 by 77 metres (79 by 253 ft), for area total of 1,800 square metres. The first flower carpet was made in 1971, and due to its popularity, the tradition continued, with the flower carpet attracting a large number of tourists. [Wiki]