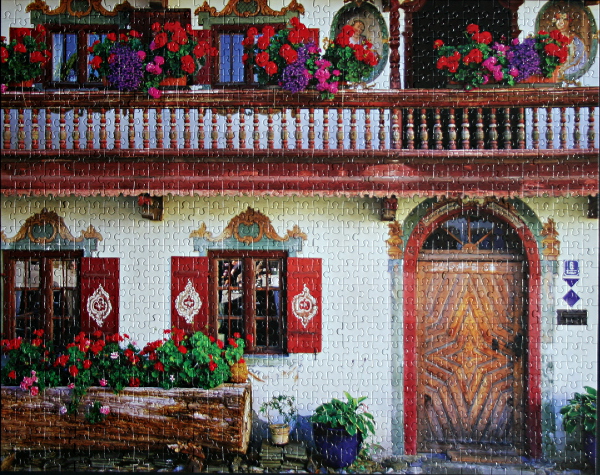 Size:  1000 pieces
Dimensions: 58.5 cm x 46.5 cm
Producer: LPF Puzzle, Shutterbug series, 2009, #1101

Puzzle: A pleasant and a quick puzzle to do. Pieces fit together well and the contrasting colours help as well. The colonnade, the door, the window shutters and the door opening on the second floor are easy regions to assemble first. The log, white regions of the walls, the blue of the top windows and the above-window ornaments are distinct as well. The flowers and the rest of the picture can follow.

Notes: The Free State of Bavaria is a state of Germany, located in the southeast. It is the largest state by area, forming almost 20% of the total land area of Germany. Bavaria is Germany's second most populous state (after North Rhine-Westphalia), with 12.5 million inhabitants, more than any of the three sovereign nations on its borders. Bavaria's capital and largest city is Munich, the third largest city in Germany.
One of the oldest states of Europe, it was established as a duchy in the mid first millennium. Modern Bavaria also includes parts of the historical regions of Franconia, Upper Palatinate and Swabia. [Wiki]