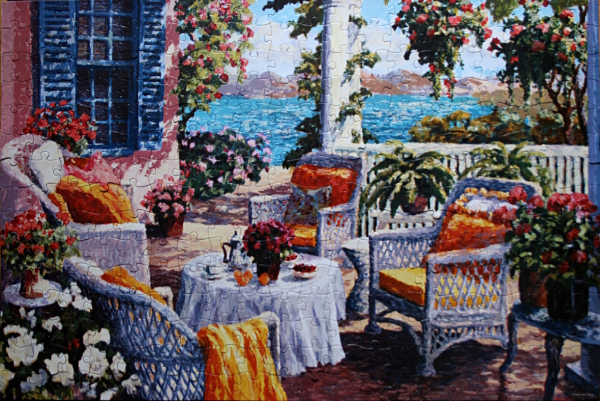 Size: 300 pieces
Dimensions: 73 cm x 48.57 cm
Producer: The Canadian Group, Sure-Lox, 2008, #70310-7
Artist: Julian Askins has gained renown for his brilliantly-colored works that capture the light, beauty, architecture, and nature of the Mediterranean, Caribbean and coastal North America. His artwork often features peaceful outdoor verandas, harbors, seascapes, and terraces that evoke a mood of joyful solitude. [Park West Gallery site]
Puzzle: A lovely painting, this puzzle was very simple given the size and number of the pieces. With the pieces flowing into place, it made for a zen evening. I have started with the sea, the window and the wall, the sunny blankets and cushions, the tablecloth, and the wicker chairs. The flowers followed and the rest of the picture filled in with little effort.