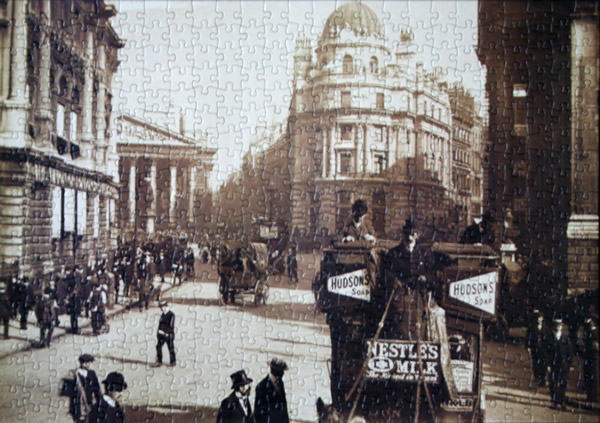 Size: 500 pieces
Dimensions: 35 cm x 48 cm
Producer: Handley Printers Ltd., SK6 1BR, Made in England, jr Deluxe, The Edwardian Collection
Notes: London is the capital city of England and the United Kingdom, the largest metropolitan area in the United Kingdom and the largest urban zone in the European Union by most measures. London has been a major settlement for two millennia, its history going back to its founding by the Romans, who called it Londinium. London's ancient core, the City of London, largely retains its square-mile medieval boundaries.
London's buildings are too diverse to be characterised by any particular architectural style, and have been built over a long period of time. Many grand houses and public buildings, such as the National Gallery, are constructed from Portland stone. Some areas of the city, particularly those just west of the centre, are characterised by white stucco or whitewashed buildings. Few structures pre-date the Great Fire of 1666, except for a few trace Roman remains, the Tower of London and a few scattered Tudor survivors in the City. One notable building that remains from the Tudor period is Hampton Court Palace, which is England's oldest surviving Tudor palace, built by Cardinal Thomas Wolsey circa 1515. Wren's late 17th century churches and the financial institutions of the 18th and 19th centuries such as the Royal Exchange and the Bank of England, to the early 20th century Old Bailey and the 1960s Barbican Estate form part of the varied architectural heritage. [Wiki]