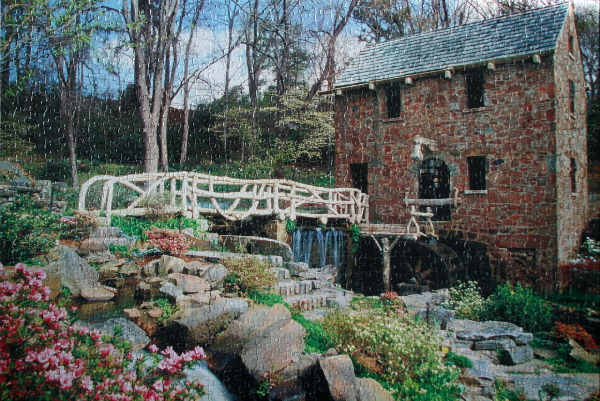 Size: 1000 pieces
Dimensions: 73 cm x 48.57 cm
Producer: Sure-Lox, The Canadian Group
Puzzle: A serene puzzle, not very challenging. The bridge, the waterfall, the flowers in the bottom left corner, the mill building, and the rocks are good places to start. The tree trunks provide vertical guides, the dark area with the wheel at the bottom of the building is distinct, and the rest of the grass, forest, and sky pieces can be filled in without much trouble.

Notes: A watermill is a structure that uses a water wheel or turbine to drive a mechanical process such as flour, lumber or textile production, or metal shaping (rolling, grinding or wire drawing).
Typically, water is diverted from a river or impoundment or mill pond to a turbine or water wheel, along a channel or pipe (variously known as a flume, head race, mill race, leat, leet, lade (Scots) or penstock). The force of the water's movement drives the blades of a wheel or turbine, which in turn rotates an axle that drives the mill's other machinery. Water leaving the wheel or turbine is drained through a tail race, but this channel may also be the head race of yet another wheel, turbine or mill. The passage of water is controlled by sluice gates that allow maintenance and some measure of flood control; large mill complexes may have dozens of sluices controlling complicated interconnected races that feed multiple buildings and industrial processes. [Wiki]