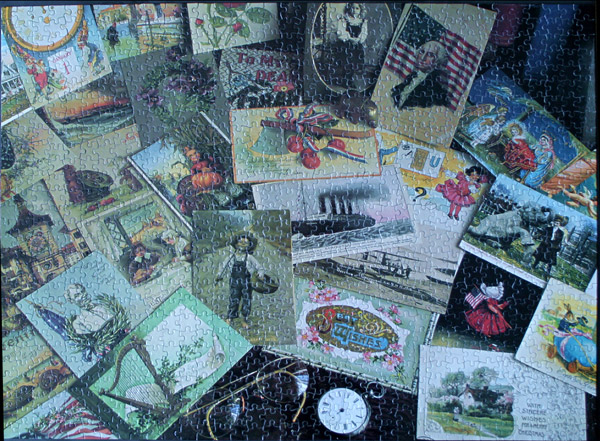 Size: 1000 pieces
Dimensions: 69.85cm x 54.61cm
Producer: Guild Puzzle
Notes: A postcard or post card is a rectangular piece of thick paper or thin cardboard intended for writing and mailing without an envelope.
In some places, it is possible to send them for a lower fee than for a letter. Stamp collectors distinguish between postcards (which require a stamp) and postal cards (which have the postage pre-printed on them). While a postcard is usually printed by a private company, individual or organization, a postal card is issued by the relevant postal authority.
Cards with messages had been sporadically created and posted by individuals since the creation of postal services. The earliest known picture postcard was a hand-painted design on card, posted in London to the writer Theodore Hook in 1840 bearing a penny black  stamp. He probably created and posted the card to himself as a practical joke on the postal service, since the image is a caricature of workers in the post office. [Wiki]