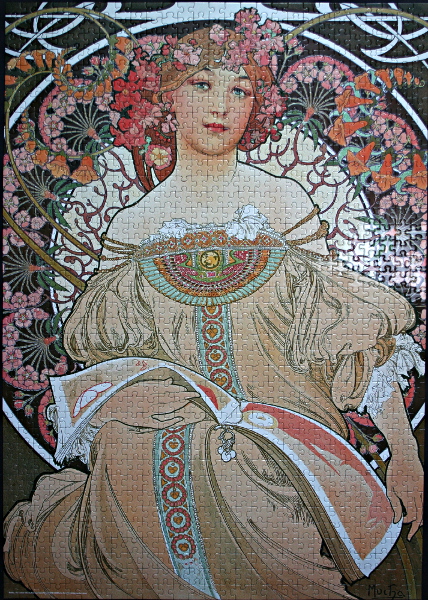 Size:  1000 pieces
Dimensions: 50.65 cm x 67.94 cm
Artist: Alphonse Marie Mucha
Painting: F. Champenois Imprimeur-Éditeur
Producer: Mega Puzzles, Vintage series, 2011, No. 50620ABJ

Puzzle: Just like another puzzle from the same series by Alphonse Mucha, this puzzle is not a quick one to do, but very pleasant in lingering on the intricate details of the ornaments. Good places to start are the face, hair, décolletage, the top detail of the dress, the book outline, and the pattern going down the middle of the dress. The black and white curves, the orange and pink flowers, and the rest of the large background ornament can follow. The hand and the white of the sleeves, as well as the red and white of the book can come next. The rest of the dress is more challenging due to non-contrasting variations of colour.

Notes: The printing business here advertised, F. Champenois, was also used by Mucha for some of his prints for other clients. [Wiki]