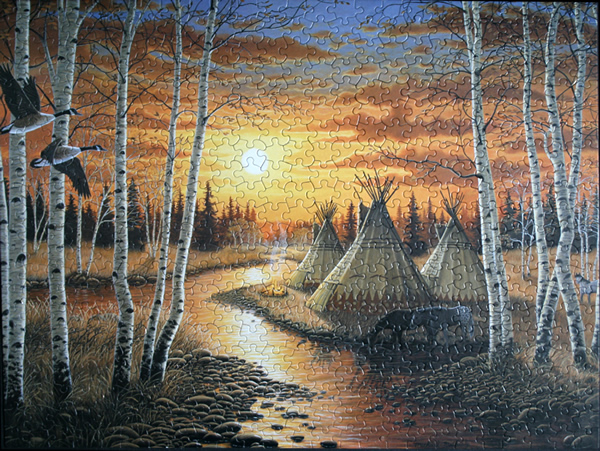 Size: 500 pieces
Dimensions: 45.72 x 60.96
Producer: Karmin International, 2007, The art of Michael Matherly
Artist: Michael Matherly
Notes:  The works of artist-painter Michael Ross Matherly are collected throughout the world. An Indiana native, he lives on his farm with his wife Debbie and his son Tyler, where they raise horses and enjoy trail riding along the river. They also enjoy camping on the island of their pond along with fishing. Michael's main sources of inspiration are from the vast beauty around us that God has created.
As a young boy, Michael showed outstanding talent. The achievements he holds are evidence of his love for and dedication to his art. With a multitude of interests, he works in acrylic, always striving to call forth a freshness in his works. He spends a great deal of time researching his subjects. That is obviously reflected in the details of his paintings.
Michael is one-quarter Cherokee/Shawnee and is very proud of his american indian heritage. He is concerned about the future of our planet and its environment. He hopes that in some way his art might allow the viewer to have greater respect and a deeper appreciation for nature and all living things that are upon our Mother Earth. [Puzzle box]