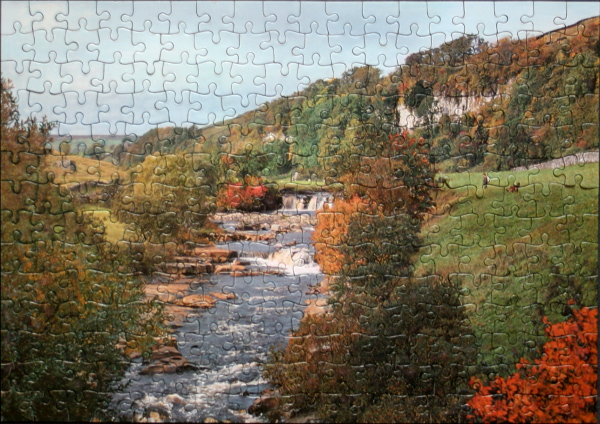 Size: 250 pieces
Dimensions: 38.5 cm x 26.5 cm
Producer: Unknown
Puzzle:  Simple small puzzle to do, and a rather pleasant landscape. The obvious starting points would be the river with the rocks, the sky and its border with the hills, the red leaf bush in the bottom right corner and another one by the waterfall. The grassy area can be done next, along with the white patch of the hill and the yellow fields. The trees alongside the river have variety in colouring, and since the puzzle is so small present little challenge after the rest has been assembled.
I no longer have the box for this puzzle, so if you know the manufacturer of this puzzle, please let me know.

Notes: The name Swale is from the Anglo-Saxon word Sualuae meaning rapid and liable to deluge. The river gives its name to the valley through which it flows, namely Swaledale. [Wiki]