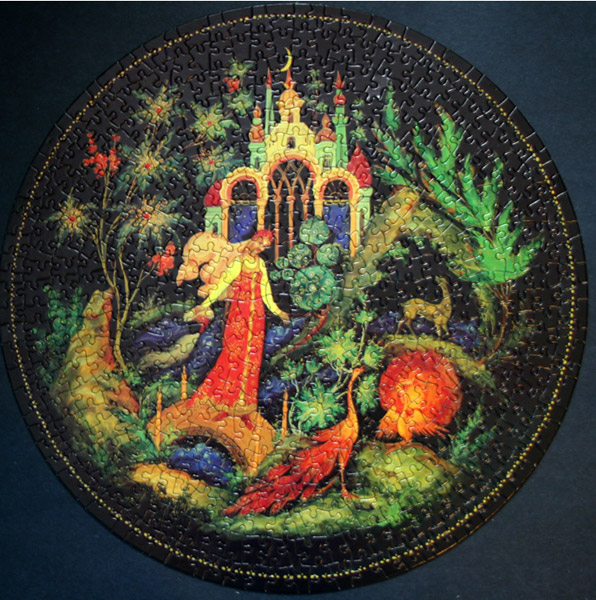 Size: 500 pieces
Dimensions: 48cm in diameter
Producer:  Falcon, Skaska series
Art: RUSSIAN LACQUER, LEGENDS and FAIRY TALES.  Russian Lacquer Miniature Painting, an important 20th century art form, originates in the four small villages of Palekh, Kholui, Fedoskino and Mstera in the U.S.S.R. where it has been flourishing since the 1920s. Lacquered miniatures, as bright as the feathers of the legendary Firebird, take the poetic art of the extraordinarily talented artists of these villages to the far corners of the world.
The paintings are inspired by Russian legends and fairy tales and are executed on a specially treated papier mâché. The boxes themselves are a feat of technical skill and beauty before a single stroke of the brush is applied. They range in size from a tiny casket no more than 1″ x 1″ upon which an entire story unfolds, to large jewelry boxes, plates and panels.
The colours used are rich oranges, reds and yellows, brilliant blues and opulent gold on backgrounds of jet black or red lacquer. Each village has its own distinct and unique techniques.
The paintings reproduced on these puzzles are taken from the book: RUSSIAN LACQUER, LEGENDS and FAIRY TALES© and used with the kind permission of the publisher and author, Lucy Maxym, noted authority on Russian lacquer, of Manhasset, New York, U.S.A. Skaska means fairy tale in Russian. [Puzzle box insert]
Notes: "Ruslan and Ludmilla" is a monumental poem by the great Alexander Pushkin. A sumptuous banquet is given by the Grand Duke Svietosar in honour of his beautiful daughter Ludmilla. During the height of the festivities, Ludmilla mysteriously disappears, abducted by the evil sorceror, Chernomor. After numerous trials, her suitor, the Knight Ruslan, rescues Ludmilla and brings her back to her home, where they are married and live happily every after. The scene shown on this puzzle depicts Ludmilla walking in the magnificent gardens surrounding Chernomor's castle, awaiting her rescue by Ruslan. [Puzzle box]