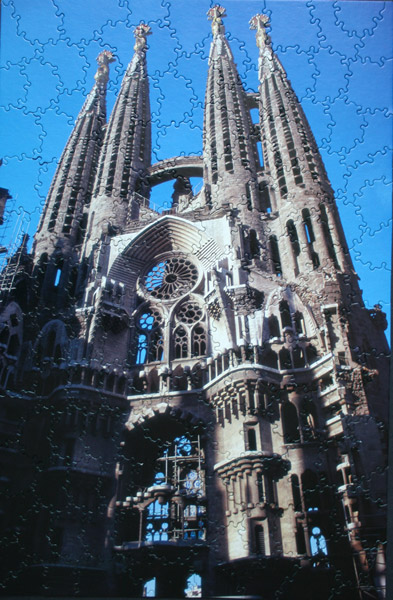 Size: 141 pieces (101 crescents, 40 border edges)
Dimensions: 43.18cm x 66.04cm
Producer: Imagination Project, Panda Enterprises, Tesselz, Crescent series
Notes: The Basílica i Temple Expiatori de la Sagrada Família (English: Basilica and Expiatory Church of the Holy Family), commonly known as the Sagrada Família, is a large Roman Catholic church in Barcelona, Catalonia, Spain, designed by Catalan architect Antoni Gaudí (1852–1926). Although incomplete, the church is a UNESCO World Heritage Site. [Wiki]
Tesselz is a new series of jigsaw puzzles where the SHAPE of the pieces is as important as the image itself! Tesselz have unusual shaped pieces that "tessellate" or tile together every way you turn them, adding a unique twist to jigsaw puzzles.
The brain-teasing twist of Tesselz's repeating identical shapes will revolutionize the way you'll think of puzzles. No longer is fitting shapes together enough – you need to take a good look at the lines, colors, and patterns to get the right pieces in place! The curious nooks and details of this wondrous architectural master-piece ensure a fun and thrilling challenge. [Puzzle box]
Crescent Series Notes: The emphasis on structure within the puzzle's design ties perfectly to the thematic link of this series: Designs in Architecture. Take our selected image here as one example and then begin to see on your own how the elements of geometry, symmetry, and asymmetry have been utilized throughout history in the buildings and structures erected by man, to form monuments of enduring and inspiring beauty.
The designer, Dr. Haresh Lalvani, based in the field of architecture is a leading researcher in morphology. He is known for his use of higher dimensions as a means of visualizing new geometries for architecture and mapping transforming structures. He is a tenured professor at the School of Architecture at the Pratt Institute, where he has been teaching since 1970. Today, he continues his exploration of advanced geometry at the Pratt Institute and as an artist-in-residence at the Cathedral of St.John the Divine in New York. [Puzzle box]
Sagrada Facts – Did you know??
The Sagrada Familia is one of the longest running construction projects under way in the world today.
In the Middle Ages, cathedrals routinely took centuries to build.
The tower representing Christ, which has not been built yet, is shown in some drawings to be nearly twice the height of the existing towers.
Construction is being aided today by computer-guided saws that can chisel granite in one-sixth of the time it takes by hand.
[Puzzle box]