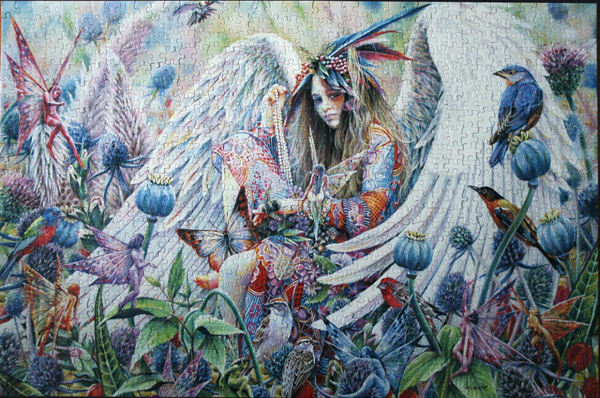 Size: 1000 pieces
Dimensions: 73cm x 48.6cm
Producer: Impressions, Sure-Lox
Artist: Sheila Wolk
Painting: photo
Notes: I wish the artist's site contained some information about the painting itself and the inspiration for it. Unfortunately, the designers appear to be more concerned with protecting the images from being stolen by placing the artist name in large letters over the top of the paintings.
A sanctuary is the consecrated area of a church or temple around its tabernacle or altar. In modern parlance, the term is used to mean any place of safety.
In Europe, Christian churches were sometimes built on land considered as a particularly 'holy spot', perhaps where a miracle or martyrdom had taken place or where a holy person was buried. The place, and therefore the church built there, was considered to have been sanctified (made holy) by what happened there. In modern times, the Roman Catholic Church has continued this practice by placing in the altar of each church, when it is consecrated for use, a box (the sepulcrum) containing relics of a saint. The relics box is removed when the church is taken out of use as a church. [Wiki]