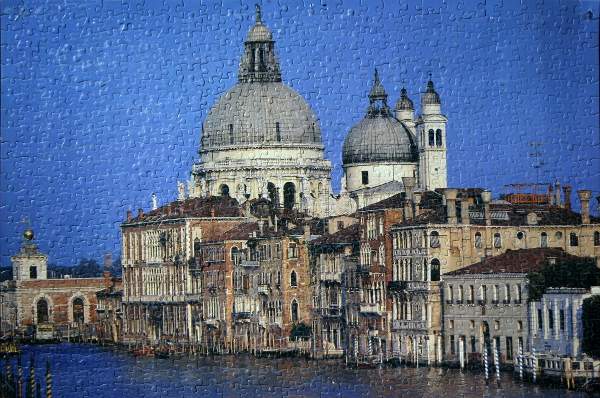 Size: 750 pieces
Dimensions: 59.69 cm x 39.37 cm
Producer: Sure-Lox, The Canadian Group
Puzzle:  This puzzle is a bit challenging due to large areas of almost uniformed-coloured sky, and the tightly-fitting side-view of the buildings with many small details, but Sure-Lox pieces come to the rescue by fitting into place unambiguously. The domes of the church, its walls, and the border between the sky and the buildings are good places to start. The blue and white poles in the water, the lower building in the bottom left corner, the water, and the buildings in the bottom right are some of the easier regions to complete next. From that point on, the rest of the puzzle can be assembled.

Notes: Santa Maria della Salute, commonly known simply as the Salute, is a Roman Catholic church and minor basilica located in the Dorsoduro sestiere of the Italian city of Venice. It stands on a narrow finger of land between the Grand Canal and the Bacino di San Marco making the church visible when entering the Piazza San Marco from the water. The Salute is part of the parish of the Gesuati and is the most recent of the so-called plague-churches.
In 1630, Venice experienced an unusually devastating outbreak of the plague. As a votive offering for the city's deliverance from the pestilence, the Republic of Venice vowed to build and dedicate a church to Our Lady of Health (or of Deliverance, Italian: Salute). The church was designed in the then fashionable baroque style by Baldassare Longhena, who studied under the architect Vincenzo Scamozzi. Construction began in 1631. Most of the objects of art housed in the church bear references to the Black Death. [Wiki]