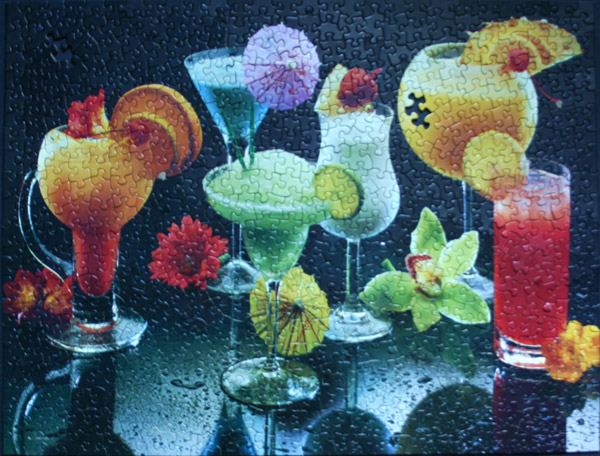 Size: 500+ pieces, 2 missing
Dimensions: 45.72cm x 59.69cm
Producer: Springbok, by Hallmark, PZL3607
Notes: Throw a summer party anytime of year! Drink recipes on back of box… Plus your very own set of festive drink umbrellas inside! [Puzzle box]
Recipe for a Wonderful Summer
When the summer is a scorcher and the sidewalks start to sizzle,
Then it's time to hit the hammocks and get out those sticks that swizzle.
Find some curvy, swervy glasses, so far-out they're outer-spacial,
Then just pop them in the freezer till they're looking really glacial.
Now you're getting to the good part, and that's mixing up those flavors,
Those tangy, fruity liquids that each taste bud's bound to savor.
Start with ordinary orange juice, then pour in a touch of mango,
And before the day is over, you may learn to do the tango.
If you're feeling really reckless, you can put in some papaya
And add a shot of rum – or two – or three – oh me, oh my-ya!
Now mix your drinks in reds and pinks, in pearly shades and bluish.
As swallow follows swallow, they will make you feel brand-newish!
Don't forget to add some garnish – cherries, berries, lemon sections.
Build the grandest of concoctions to the point of pure perfection.
You can even add a posy or a very small umbrella
To make each grateful guest feel like a festive gal or fella.
Remember now to not forget when temperatures are soaring,
The way to beat the heat is just by mixing up and pouring
Some spirits so exotic they'll both cool you down and warm you,
And two or even three of them could never ever harm you.
No need to let the climate turn your days into a bummer
When you know the perfect recipe for one terrific summer!
[Dean Walley, puzzle box]
Recipes for summer sipping – anytime!
Drinks on puzzle from left to right.
Tequila Sunrise
2 oz. Tequila
4 oz. Orange Juice
3/4 Grenadine
Stir tequila and orange juice with ice and strain into highball glass. Add more ice cubes. Pour in grenadine slowly and allow to settle. Stir before drinking to complete your sunrise.
Blue Hawaii
1 oz. White Rum
1/2 oz. Blue Curaçao
1/2 oz. Cointreau or Triple Sec
1 oz. Cream
Shake ingredients well with ice and strain into a cocktail glass. A delightful after-dinner cocktail for a warm summer's night.
Margarita
1 1/2 oz. Tequila
1/2 oz. Cointreau, Triple Sec, or Curaçao
1/2 oz. Lemon or Lime Juice
Shake well with ice. Strain into prechilled salt-rimmed cocktail glass. To prepare glass, rub rim with lemon; then dip into salt and shake off excess. Although traditionally the glass for a margarita is salt-rimmed, it may also be sugar-rimmed. A slice of lime or lemon peel may be added if desired.
Piña Colada
3 oz. Rum
3 tablespoons Coconut Milk
3 tablespoons Crushed Pineapple
Place in blender with two cups of crushed ice and blend at high speed for a short time. Strain into Collins glass and serve with straw.
Yellow Bird
3 oz. Orange Juice
2 oz. Pineapple Juice
1 oz. Lime Juice
1 1/2 oz. Rum
1 1/2 oz. Banana Liqueur
1 tablespoon Kahlua
Put all the ingredients in a blender with a little ice and blend until smooth.  Pour into a large goblet. Decorate with slices of orange, lime, lemon and pineapple and a Maraschino cherry.
Singapore Sling
1 0z. Gin
1 oz. Cherry Brandy
1 oz. Lemon Juice
1 teaspoon Sugar
Soda to top
Shake ingredients well with ice. Pour contents into a highball glass and top with soda. Decorate with a slice of lemon and a Maraschino cherry.
[All recipes are printed on the puzzle box]