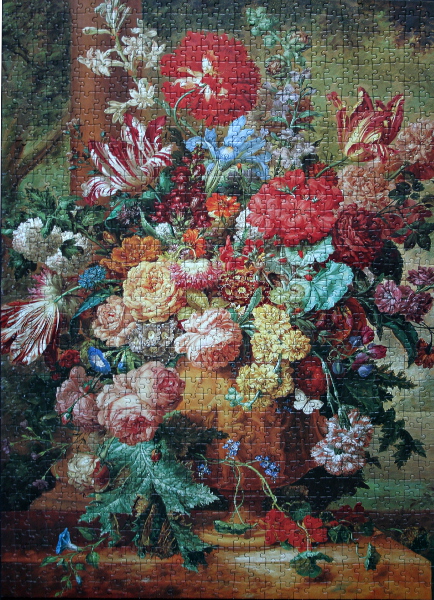 Size:  1000 pieces
Dimensions: 49 cm x 68 cm
Artist: possibly Abraham Hendriksz van Beyeren (unsure, since puzzle box does not list the artist)
Producer: Jumbo International, #00023

Puzzle: A very rich puzzle in terms of colours and arrangement. One of the ways to approach it is to start with the larger areas of similar colour: red flowers, yellow ones, large pink and striped ones. After that, the vase and the table, as well as larger green leaves, blue stand-alone flowers, the butterfly, and the pastel flowers can be tackled. The pillar in the left top quarter separates the top area into three distinct regions and can be used as a vertical guide. The rest of the arrangement fills out easily from there. Overall, a very enjoyable vibrant puzzle, made with good quality paper.

Notes: Floral design or floral arts is the art of creating flower arrangements in vases, bowls, baskets or other containers, or making bouquets and compositions from cut flowers, foliages, herbs, ornamental grasses and other plant materials. Often the terms "floral design" and "floristry" are considered synonymous. Florists are people who work with flowers and plants, generally at the retail level. Floristry differs from floristics, the study of distribution and relationships of plant species over geographic areas. Floristry also differs from horticulture, which more broadly relates to the cultivation of flowers and plants so they will remain fresh as long as possible, and would be desirable for purchase, which also involves knowledge of customers' requirements and expectations. The ability to create a variety of floral designs such as wreaths, bouquets, corsages, boutonnières/'buttonholes', permanent arrangements and other more complicated arrangements is also important. [Wiki]