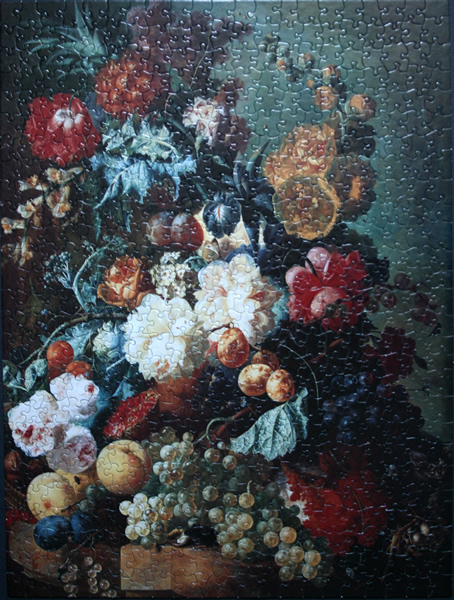 Size: 500+ pieces
Dimensions: 89.5cm x 71.5cm
Producer: Battle Road Press
Artist: Jan Van Os, Dutch (1744-1808)
Painting: Oil on canvas, Gift of Mrs. John Harris Clay, 92.13, The J.B. Speed Art Museum, Louisville, Kentucky, ISBN 0-934967-76-8
Notes: Jan Van Os was born in the small Dutch town of Middleharnis in 1744, but spent most of his life in The Hague, Holland, where he studied with the painter Aart Schoumann. Although Van Os occasionally painted marine subjects, he built his reputation on still-life paintings like the one in the Speed's collection. He frequently exhibited at the Society of Artists in England and sold many of his paintings to members of the English and French aristocracy. Scholars today credit Van Os with perpetuating the Dutch flower-painting tradition and the style of the leading still-life artist, Jan van Huysum (1682-1749), into the late eighteenth and early nineteenth centuries.
Still Life with Fruit and Flowers is characteristic of Van Os's large, abundant still-lifes. In it, he depicted a variety of colorful and occasionally exotic plants and fruits in a sculpted terra-cotta vase placed on a marble ledge. Van Os employed two different techniques to render the textures of the various objects. He applied wet paint on a web underlayer and blended the colors to create the subtle variations in tone in the landscape. For the fruit, insects and water drops, however, Van Os painted over a dry underlayer to depict their crisp edges and details.
Like many Dutch artists, Van Os relied on traditional metaphors or symbols to convey meaning in his paintings. In Still Life with Flowers, Van Os contrasted images which suggested the sinful, material world with objects related to the spiritual realm of God. The cat, for example, was often associated with witches, and therefore was commonly thought of as evil or lustful. The mouse was considered an earthbound animal that relied on the material world for survival. Shown eating, as it is here, the mouse also symbolized gluttony. Other objects in the painting that allude to sin are the peaches, emblems of physical pleasure, and the melon, once thought of as a luxurious unhealthy fruit. In contrast to these negative images are objects which serve as reminders of God. The butterfly and dragonfly, for example, symbolize the resurrected soul. The three-part shape of the iris is like the three-part nature of the Trinity. The grapes and the small red currants refer to the wine of the Eucharist or Communion, and thereby symbolize the blood of Christ.
Van Os's detailed studies of fruit and flowers in lush landscape settings made his paintings immensely popular among collectors during his lifetime, as well as among museums and collectors today.
The J.B. Art Speed Museum was founded by Hattie Bishop Speed as a memorial to her husband, James Breckinridge Speed. Since opening its doors in 1927, the J.B. Speed Art Museum has become Kentucky's largest and most comprehensive public art collection with works by such masters as Rembrandt, Rubens, Tiepolo, Monet and Picsasso. The Museum's permanent collection consists of over 8,000 works of art spanning 6,000 years of history from Antiquity to the present day. [Puzzle box]