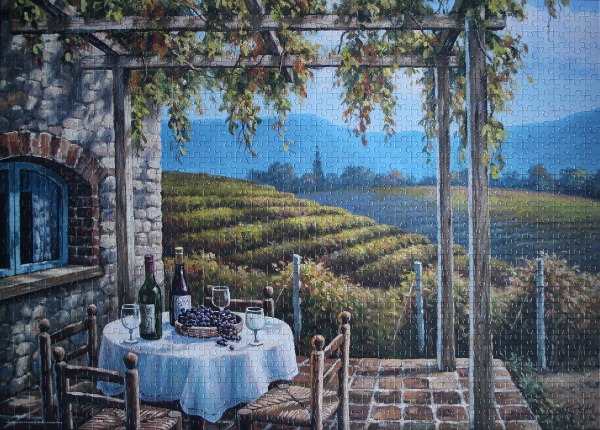 Size: 1000 pieces
Dimensions: 67.9 cm x 48.1 cm
Producer: Mega Puzzles, The Art of Sung Kim series
Artist: Sung Kim – Born in 1940 in Seoul, South Korea, Sung Kim exhibited his artistic talents early in childhood. He entered and won various art contests and decided to pursue his passion for art by attending Seorabol Art College where he graduated with honors. Sung opened his own studio and worked as an illustrator for various magazines and children's books. He traveled throughout Europe before immigrating to the United States in 1980. For the past 20 years, Sung has worked with various fine art galleries, producing over 400 original landscape paintings, and has sold his paintings to people from all over the world. [Puzzle box]
Painting: original
Puzzle: There is a wonderful book by Gerald Durrell called "My Family and Other Animals", in which he describes life in Corfu – a Greek island to which his mother and three siblings have moved when he was 10. As a child, he explores the island gathering various animals (he has been an enthusiastic budding zoologist at that age), against the backdrop of the slow-paced life of the adults on the island. The olive trees, the sea, the tranquility of sunny afternoons, and the overall calm of the Mediterranean is what I remember vividly from the book. And this puzzle by Sung Kim carries that same quiet feeling of a light breeze on a vine-shaded terrace, on a lazy sunny afternoon somewhere in the Mediterranean.
This puzzle is not a trivial one to assemble, as uniform patterns such as leaves at the top, trees in the background, and bricks of the terrace take up large regions. It is a very calming scene, however, so I have found it quite relaxing, so I did not mind slightly longer time to find the pieces I needed. There are a few good regions to start: the boundary of the sky and the mountain, as well as the borders of the mountain and the trees, and far away trees and the fields. The table with white tablecloth, and the wine glasses and bottles is also easy to assemble. The window with surrounding bricks, and the chairs are also a different enough shade and pattern to not be difficult. The terrace frame is a little harder to complete, but when done it can serve as horizontal and vertical guides for the res of the puzzle. The lighter bricks of the wall are sufficiently different from the tiles of the floor. The leaves at the top can be fitted in between the horizontal guides of the terrace frame, and the rest of the puzzle comes together afterwards.
The assembly went very well with a glass of wine and the early spring sun coming in through the window, promising warm afternoons, if not in the Mediterranean.