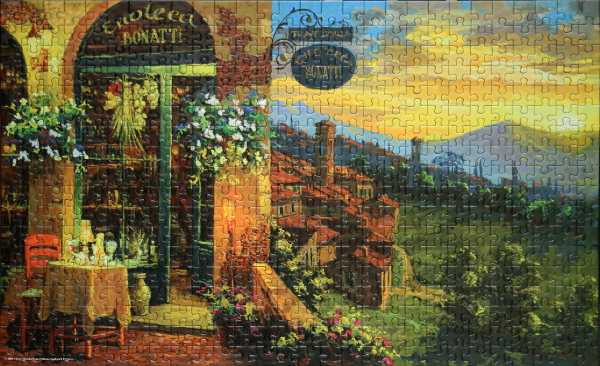 Size: 504 pieces
Dimensions: 45.7 cm x 27.3 cm
Producer: Sure-Lox pieces. Company unknown – I do not have the box anymore. If you have this information, please do share. There were 4 puzzles in the box: Autumn in Paris, Buca Francesco, Rue Lafayette Paris, and Sunset Blaze – all by the same artist.
Artist: Viktor Shvaiko
Puzzle: I have assembled a 1000-piece version of this puzzle a few years ago. It is a lovely and easy puzzle to do. The best regions to start are the yellow and blue sky, the mountain range, the sign over the sky, and the vertical guides of the building/sky border, the arches, and the door frame. The bright red chair, the orange ledge in the bottom center, the letters above the entrance, the terrace floor and the table are easily put together. The border of the city and the mountains, as well as the red-roofed houses can come next, followed by the flower arrangements around the arch. This leaves the green of trees and grass, the building interior, and the flowers growing around the ledge. Beautiful scenery.