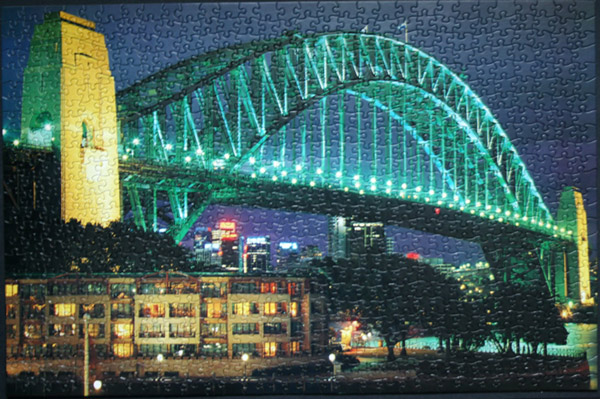 Size: 750 pieces
Dimensions: 59.69cm x 39.37cm
Producer: The Canadian Group, Sure-Lox, Wonderful World series
Notes: The Sydney Harbour Bridge is a steel through arch bridge across Sydney Harbour that carries rail, vehicular, bicycle and pedestrian traffic between the Sydney central business district and the North Shore. The dramatic view of the bridge, the harbour, and the nearby Sydney Opera House is an iconic image of both Sydney and Australia. The bridge is locally nicknamed "The Coat Hanger" because of its arch-based design.
Under the directions of Dr J.J.C. Bradfield of the NSW Department of Public Works, the bridge was designed and built by English firm Dorman Long and Co Ltd of Middlesbrough, and opened in 1932. According to the Guinness World Records, it is the world's widest long-span bridge. It is also the fifth longest spanning-arch bridge in the world, and it is the tallest steel arch bridge, measuring 134 metres from top to water level. [Wiki]